A few things I learned at Listen First: A Creative Conversation on First Nations Perspectives (put on by the good people at Bleeding Heart Art Space). Panellists included artists, Aaron Paquette and Lana Whiskeyjack, Musician, Darren Day, U of A Professor of Aboriginal Studies, Shalene Jobin Vandervelde, and Terry LeBlanc.
Do you remember the word treaty? Do you remember the word covenant?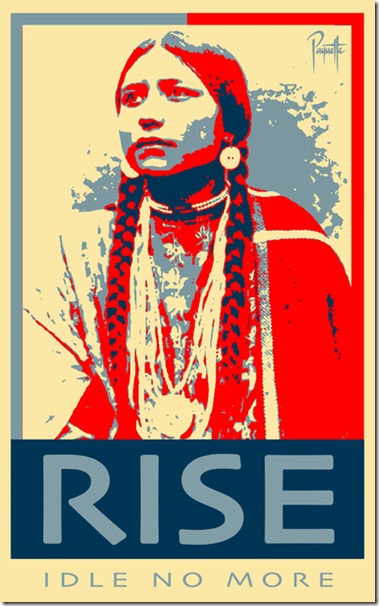 Long before aboriginals found Columbus wandering on the eastern shores of Turtle Island, treaties have been used as sacred instruments of peace and understanding between tribes. Covenants have an equally sacred standing among Judeo-Christians. Both covenants and treaties have a historical and legally binding status.
The European Christians who came to this land entered into treaties with aboriginals. These were simple covenants negotiated with the British Crown. Aboriginals agreed to share some of their land "to the depth of the plough." Other lands were set aside for future generations, these were called "reserved lands". In violation of the treaties, the Canadian government turned these lands into reserves and placed them under parliament's Indian Act.
I would like to think our understanding of covenant is simple and needs no qualification. But when it comes to the Canadian government's conduct concerning treaties, qualification has become synonymous with obfuscation and diversion.
Obfuscation and diversion are instruments used to visit complexity upon simplicity where no complication should exist; the treaties have been treated to decades of this countries best practitioners of puzzlement.
An example: The Liberal government's White Paper of 1969 (Chretien and Trudeau) was a thinly veiled attempt at Indian acculturation, land transfer and the abolishment of treaties. But The White Paper is still alive, and the present government, made in the image of Stephen Harper, in contravention to the United Nations Declaration on the Rights of Indigenous Peoples, is using every technique possible to do away with treaties.
And this is the fundamental issue. While we have adopted First Nations as a name, do we really believe in a nation-to-nation relationship with Indigenous peoples? As it is, legislation is passed that repeatedly flouts free, prior and informed consent. This, despite the government's apology in 2008…which begs the question if it really was an apology. As Terry Leblanc said, quoting Desmond Tutu. If someone apologizes for stealing your pen but doesn't give it back, is it really an apology?