For what it's worth, let me introduce myself to you as of March 2013:
You could, if you wish, take me for a has-been. Retreaded once too often: the tread, having come uncapped at cruising speed lies in a ditch, the tire flat.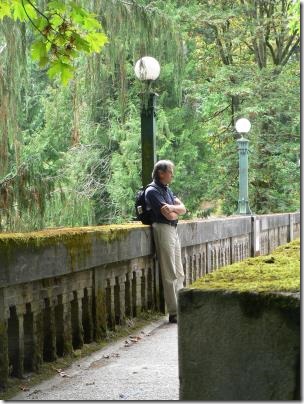 Or, if you wish, you could take me for someone who has seen the porch-light of his own limitations; someone who has met agents of equivalent title, and has understood they were not him; someone who knows the metaphors of millstone and albatross, and has made, before they personally apply, a comely exit; and someone who can release the status of appellation without firing pistols in the air.
But on this last point, let me be bare-rug honest and add that I'm not immune to the age-old appeal of elevated social stratum. Having been in managerial and directorial positions for 20 odd years I do feel the loss of recognizable authority inherent in position.
And yet I know myself as someone who would sooner snorkel in reefs than swim with sharks. A man in an exquisite suit once said that he saw aspects of leadership in the fundraising trade as akin to swimming with sharks. But swimming with sharks, no matter the aspect, seems to me a stupid activity. Still, when one is needing to raise millions for the pool, there are indeed days when it seems you're a bit of chum trying to make shore.
But I do know that all this is can be lived with when the cause is just. Going to those who have, on behalf of those who don't—or as I like to formulate: offering people the joy of being the cause of someone's welfare through the simple act of giving, which at essence is simply about convincing people to follow their deepest desire—is not a small thing. It is, what has sustained me.
At the same time when a season ends, when aspects of the work, namely, the Science of Fundraising, runs the rest dry, it is time to cast the long view. (I need to add here that the alchemists—from our consultants to my own data specialist—of this necessary but beguiling facet of Development have long astounded me. I hold them in very high regard.) Moreover, when there is an obvious replacement and you recall the promise you made to yourself a decade ago—that you wouldn't stay past your best before date—the decision is suddenly easy.
I am someone of questionable capacity; but I have reasonable observational skills and this has helped me find people of great skill and capacity. And having found them, I have cared for them. I am an introvert (not much of an asset in the world of Development), but I know the value of genuine affection and the infection of a smile and the felicitous work of well placed word. These are things that have kept me until now.
I will continue to work for Hope Mission. But in a few months I will be reducing my time. A thing central to my work will be the privilege of writing down stories from the street. Stories of lives that have made shifts, changes in course, as a result of the Hope Mission's ministry.
And part-time status will also give me time to do something I have a fair aptitude and capacity for: watching the moods of sky, sensing the inscape of trees in late summer, noting that the flutter and fold sine-wave flight of a downy woodpecker sounds like a small flag in an uncertain wind. Honest work. It's the calling to consider the lilies; and echoing Emily Dickinson, it's the only commandment I've succeeded in keeping.