My wife is running. The ground slopes down from where she parked the truck, the grass is wet from dew. She is running awkwardly toward the cabin and I am watching from the window. She wavers. I worry she will slip. She seems unable to carry herself. I grow tense. Now she is closer and I make out her face. There is anguish. The morning is clear and there is wind in the trees.
Both of our cell phones had rung. The number indicated my mother-in-law. No message was left. Deb had taken her phone and walked to the truck. Good reception can only be achieved at the end of the road south of our cabin.
My wife appears to be screaming. Now I hear wails arching above the layered razz of leaves in wind. I am out of the cabin, going to her. We grip each other's forearms. Her head is to one side as if it's hard for her to hold up. She is shaking and staring into my chest. There are wet spots on the front of her shirt.
I don't understand what she is saying. Her words don't come right. They are compressed then drawn long in a moans, cries. But it is holiday Monday and we are preparing to help friends re-shingle their house. It had rained yesterday, but today will work. I remember that I have toast in the toaster-oven.
My wife releases my arms and pushes herself past me toward the screen door. I reach to open it, she falls through and onto a chair. I'm making out words, phrases…her dad has shot himself. A mistake in my hearing. Now there are sobs that sound like words; there are "Oh's" that lift her body off the chair then collapse like a house and press her deep into the cushion. And I hear myself…no-no-no-Oh-God-Oh-God-Oh-God!
Suddenly we are turning things off, closing doors, blindly stowing things in bags, carrying those bags to our truck, and driving to the city where we will pick up more bags and drive to Red Deer.
We stop in Leduc. We are at a Shell gas station. There are motorcycles and holiday trailers. People are moving around on this Labour Day. They do not know what we know yet, but when they do they will all stop what they are doing.
We go over how we got here; we think about what to say—rehearse a thought. We call our daughter first. We say we have terrible news about grandfather. Our phone is blue-toothed to the car stereo. There is no response. Then there is gasping…and crying and inaudible words. She will get her brother and come quickly. We tell her to wait. We'll call when we get there. She says she needs to hold us both. We call our youngest son. He is at a restaurant having breakfast with his girlfriend. "What?" We wait for him. Now his voice is cracking, now there are muffled "no's". Our other children do not live close we will call them soon.
My wife and I drive and listen to the road. We have time now to talk. But there is mostly just road-hum. Our son from Vancouver calls and we pull off to the side of the road. A son in Japan will write a heart wrenching note. A son in Saskatoon will not believe it, he cannot understand, asks repeatedly, "why."
There are many cars in front of the house when we arrive. It's been four, maybe five hours since his body was taken away, along with a .22 rifle and a note that said he was not able to go on, but that he loved his wife and all of his family.
My wife removes her purse and rolling case from the car. I say, let's go in first—leave everything until later. She says, "Don't tell me how to grieve!"
The house is full, there are too many people. Some have already brought food, time is twisted out of shape. Is there a right way to act at a gathering such as this? There are wet faces, people holding each others arms, smiles with greetings, and crying, and in the crying there is occasional laughter. 
My mother-in-law is suddenly in front of us and grabs her daughter tight and they stand and tremble and weep. Then she grips me and sobs and keeps saying, "He is with Jesus," determined to comfort and spread assurance. I am not comforted. There is shock enough for everyone. Who knows how to act? What to say?
Later in the evening Deb and I walk the long way around to the back alley. My wife's youngest brother and his wife are with us. We want to see the place. My mother-in-law had found him a few minutes—maybe fifteen—after the shot. The back door was ajar, the gate had been left open, eye glasses had been removed, folded, and left on a post. She had yelled, "Bruce! Bruce!" She had pulled him over onto his back and had thought he had sighed—just before the end. She was unable to steady her phone. A neighbour helped, then the ambulance came, and police.
We approach slowly. Is there a right way to approach? There are broad patches of red gravel, spots of reddish-black on the fence where two Lombardi poplars loom. A neighbour has attempted to clean the area.
My brother-in-law is staring across a field wondering what his father saw at the last moment. The house is on the east edge of Red Deer. Was it clear? Would he have noticed a sunrise? Deb says no, everything would have been black, despite the brilliance of new morning light. My sister-in-law wonders about smudging this place.
The next morning my wife takes the same walk alone and sits on the gravel beside the patch of blood and speaks to her father. It's a conversation that is forever her own.
Later in the afternoon I stand at the back fence with my arm around my son, we are looking at the place wondering how he fell, how he felt. How long did he live…the bullet entering his temple. Mark's mouth, chin, is quivering, there are large tears in his eyes. And they fall.
In the house, we are all keening, then we are laughing—memories—then we are crying again. I say to Deb's uncle that this is a shitty day. He says that's a good way to put it; then says, "I could just kick him!" My wife's aunt imagines a scene in heaven: Bruce's father, is again scolding him, "What are you doing, what are you thinking, going off and shooting yourself!" Deb and I laugh. Somehow this is very funny.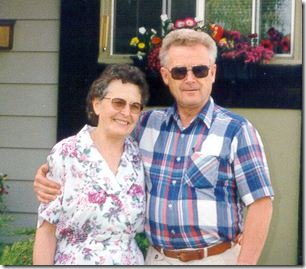 The next day there is a meeting with pastors. Wishes are expressed about how the memorial is to go: a single hymn, the music before and after will be "lively", a pianist at the church, who is apparently quite excellent, will be asked to play. Children and grandchildren will write out memories to be read by the pastor. These, we find, are things he wanted.
We talk in a circle, more memories. It will be a large funereal. He knew many and everybody knew him. He cared for many, helped scores of families over many years. His energy was great. His gifts many. His humour, his gregarious and generous nature, near legendary.
The pastor says he will run down Kerry, the excellent pianist, and ask him to play the lively music. I say, if Bruce were here he would say don't do that, we'll need him to play the piano. We laugh.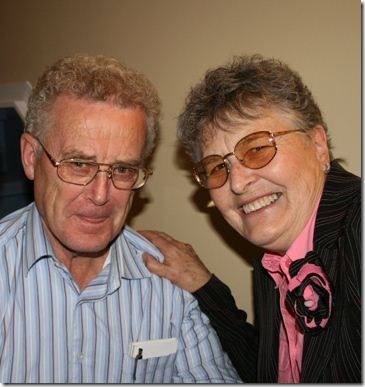 And we all know this is not the way he would have chosen to leave this earth. It is a glaring aberration of character. And the fact that he did decide on this ending speaks to the depth of darkness, anguish and pain he was experiencing. Yet, as his youngest son said, there is something—not about the decision—but about the "deciding" that rings true to who he was: if, when, there is something that needs doing, it needs doing now. As it is, it's a decision he owned, but the decision itself says nothing of the man we knew as father, grandfather, father-in-law, uncle, brother, husband…
Bruce Walton, we love you and miss you.