Consider: one clear morning government trustees arrive at your door and collect your children, put them on a train and ship them to a Christian boarding school. Upon arrival, their clothes are taken, their heads are shaved and their bodies scrubbed raw–all in an effort to purge, physically, psychologically, spiritually, what it is that makes your children who they are, what it is that makes you you.
Consider your daughter's fear, grief and confusion as she tries to understand what it was she did wrong that brought her here.
Now consider her average day. She is not allowed to speak your language, the only one she knows. She is allowed to speak only the one called English and if she should slip and speak a word of your language, she is slapped, strapped or put in a closet. 
Though she may occasionally catch sight of her brother through a page-wire fence, speaking to him brings harsh punishment. Her isolation feels absolute. She is able to make some furtive friends, and there is some support, but she understands finally that her survival is to withdraw into herself and try to keep a crumb of herself alive. Her memories of home and love fade, as daily she is taught to embrace a culture in which she will never find acceptance.
You, as parent, are able to visit your children, but only during designated times, and only if you apply for a pass which binds you to non-interference, the terms of which can not be questioned. Visits are always chaperoned and must be conducted in English. And while you may know a few words, you are forced to be content with sitting by your children for the allotted time. Your daughter agonizes to tell you her pain but is pulled to silence for what she believes is your protection.
Until our hearts are broken by the enormity of the atrocity of what we did in the residential schools project, our governments won't find the moral outrage and courage in the people they govern to make any meaningful changes.
So commented my brother Sam on my last post. And while you would hope that some within government would find the moral outrage and courage on their own, it is true that our own hearts need to be broken.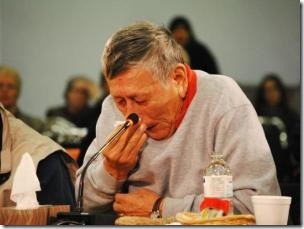 But the breaking of hearts over the Aboriginal problem requires an aliveness to what's beneath our feet and in our air, a sensitivity to place, language, spirit.
And of course it's not an Aboriginal problem, it's a Canadian problem. As I read in the interim report of the Truth and Reconciliation Commission, "In talking about residential schools and their legacy, we are not talking about an Aboriginal problem, but a Canadian problem. It is not simply a dark chapter from our past. It was integral to the making of Canada. Although the schools are no longer in operation, the last ones did not close until the 1990s. The colonial framework of which they were a central element has not been dismantled."
The double bind of Canadian colonialism, the implicit massive racism, that is, the historical aim to "Christianize and civilize the savage," but never to include, lurks. We see it in the inner-city. We see it in the social, economic, and political burdens and barriers that Aboriginals struggle with each day.
Yes, there are some who wear the mantle of victimhood to harm. Still the onus remains with us. The underpinnings of Canadian society are racist. Canada is built on a land grab. It's been four years since Prime Minister Harper delivered an apology to the Aboriginal people of Canada, three years of Truth and Reconciliation, progress has been made, and there have been steps backward. Those of us advantaged by this history still need experiences of empathy. 
We still need to grow mercy, we need broken hearts. The stories of heartbreak are nearby, if one looks.