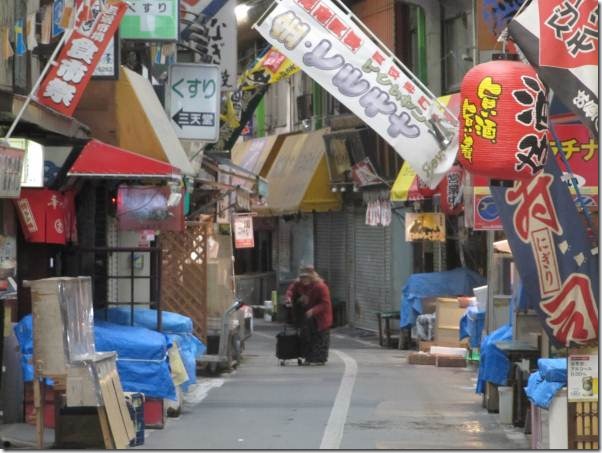 One night it rained.
I put on boots and left the house.
I walked until morning.
On a hill I sat in wet grass.
I heard a people of strange tongue.
My heart became a dove and flew toward the valley.
My feet became a deer and raced to the water.
My skin stretched over the brook and I became a drum.
My head became strings that my hands played.
They played the move of sun across my back.
I sang sparrow songs into the evening.
The dark came and I stood.
Grass pulled at my feet.
My boots were worn.
My house was very old.
The rain stopped. 
---
The occasion: One early morning in Kokura, Japan, while my son Michael was still asleep, I got up and walked downtown. The streets were still quiet and the alleys with all the markets were empty. There was only this old lady (above) bundled against and amidst the fading canopies, bright paper lanterns and patches of colour. I took the picture quickly, not wanting to upset her. She is blurred. When the coffee shop opened I sat down to a Psalm about change and impermanence. Things that are eternally with us. Things that fetch sadness, and things that allow flourishing. The crooked mercies of life.