I am at the Peace Memorial Museum in Hiroshima, it is Passion week, Easter has closed in.
I am in front of an exhibit. Behind glass upon a circular stand is what looks to be scraps of cracked wax. Below I read about the mother who saved the melted skin of her nine year old son, the skin to show the father, a soldier, who is away still fighting, not knowing everything is lost. The mother, shielded from the original blast will soon die of "A-bomb disease."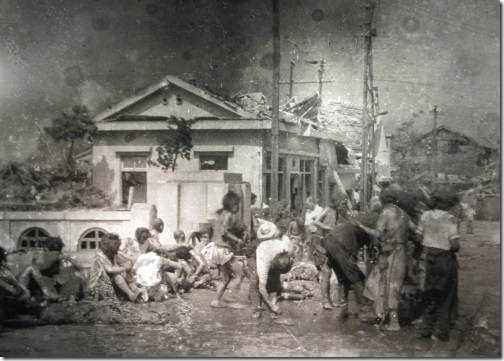 I see a photograph, a boy standing, arms held out as if feeling his way, sheets of skin hanging off muscle like Spanish moss.
I read of a woman on a street car who watches people on the street. She sees small fires start at the tips of fingers, then she sees the fires spread and cover bodies.
I read about a girl who was making 1000 paper cranes which will grant her wish to live. She dies of leukemia ten years after the bomb. She made 644 paper cranes.
There are 140,000 other stories.
How do you place Hiroshima within Easter? Easter within Hiroshima? With what perspective do you frame 140,000 crucifixions? Is it not reasonable here to see Easter as a joke?
On behalf of the Allies, President Truman thanked God that this "awful (atomic) power has come to us and not to the enemy." Hiroshima was still burning, Nagasaki to come, when he prayed that God, "may guide us to use it in His ways and for His purpose."
I am looking at a tricycle. Another exhibit. It has slumped from the heat that arrived immediately after detonation. I'm in deep here, hanging on to Easter in the middle of Hiroshima.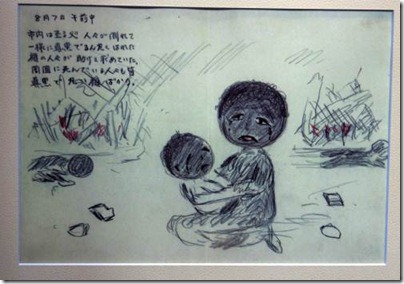 All my received Sunday answers fail, all the ones I repeated to my children: Easter: the settling of a payment for sins—a human/divine sacrifice required by a righteous God—us just off-stage knowing everything turns out all right at the end. Easter: the right to eternal life for believing the right thing—a new fraternity reserved for those who believe in the one way—the knowledge that after death heaven awaits the steadfast and upright, while in the mean time, we are given a pass to go on playing by the code of lesser evils, the miserable dictates of death, the rules of reprisal and sacrificial violence.
What is Hiroshima except a barely imaginable spectacle of the game of death? With us thanking God that it fell to us to be able to play deadlier than our enemy. The grizzly victory gained, in the name of God.
But what is Easter except Jesus voluntarily stepping into the toxicity of all our deadly ways of securing our lives? And what is the resurrection but an end to the game of death?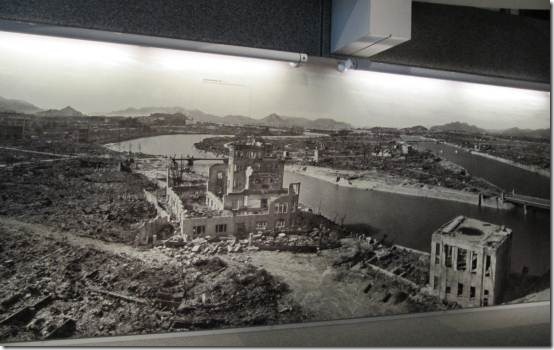 If this is how Easter truly is it undermines everything we believe about death. It is the new and dangerous reality that makes it possible to live as though death were not. If it isn't true, well, then you'd expect things to look much like they do now.
Or, it is true, but we've missed the point of the best story ever. Or it is true, but we've put in on hold because violence appears always to win. And winning is what counts. Security trumps trust. Which of course it does in a closed system. Or it is true, but only in those church-rehearsed, spiritualized ways that secure for us a personal paradise over 140,000 non-believers. Which of course makes it all false.
But I also see how easy it is to blame the "administration," and be blind to my own participation. What damning prayers—in the name of God, and thus justified—have I whispered for my security, preservation, recognition?
Easter is an event toward humanity, but there is a personal response to Easter. A daily response that has nothing to do with mouthing verses, but everything to do with seeing, in the lynching of Jesus, my propensity to exclude another for the sake of me and mine, which is nothing but the fear of death; and everything to do with a resurrection that makes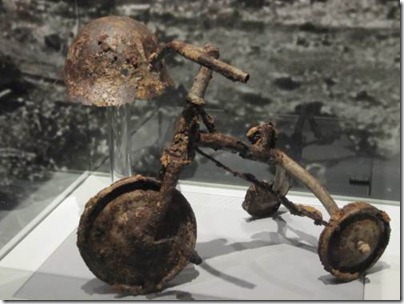 all that fear, all those death-grip moves to solidify the group, unnecessary.
If there is such a thing as original sin, it is simply this: my participation in sacrificing another for the sake of my group, my nation, my world—which diminishes everything and destroys oneness—an abiding oneness which is God's desire for us.
If Hiroshima (insert Gaza, West Bank, Afghanistan, Iran…and any number of Old Testament nations) can justifiably be sacrificed in the name of God, can Easter be true?
Easter is the witness that there is nothing behind Jesus, no warrior God in disguise, nothing except love. Easter is not a narrowing of options in the false top-down reading of "I am the way the truth and the life," but an opening up of possibilities in the bottom-up witness of one who is inhabiting death for us—and who returns to us in the ones we exclude. Easter is not assented to, it is undergone.