A couple weeks ago I wrote a piece for the Edmonton Journal's Religion page that questioned the church about its apparent absence during the Occupy protests. I was contacted later by one Pastor informing me that his church (Look to the Cross) of a few dozen socially engaged people were there, had always been there, and were fully supportive. This was cause for hope.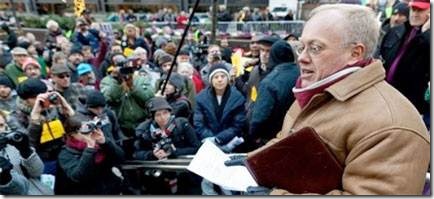 At the same time, that 99% of the clergy have been silent or quietly opposed, or even actively opposed, is for me a Jeremiah-sized lament. They have failed to recognize that this is more than a movement opposing corporate state bailouts and corporate controlled governments. It is a movement that challenges our very way of being in community. It challenges and condemns our celebrity culture and our atomistic consumerist culture; and for those of us who still name ourselves Christians, it is beginning to shame our spiritualized Christian culture.
We like to quote Dietrich Bonheoffer's "Cost of Discipleship" as we are able to spiritualize and privatize it to where it has no bearing on how we live outwardly. We forget that Bonheoffer also said things like, "We are not to simply bandage the wounds of victims beneath the wheels of injustice, we are to drive a spoke into the wheel itself."
Chris Hedges is one who is leading the "spoke driving". On Sunday he gave a speech worthy of MLK at Trinity Church in New York. (I thank my friend Connie Howard for pointing me to it.) It was in fact a sermon that should be circulated, perhaps used as a template, in churches across the land. Holding up the Beatitudes—from Jesus' Sermon on the Mount—on behalf of social justice and the Occupy movement will offend many including salvationist-Christians, but I have a notion that it won't offend Jesus.