Everyday, on my way to work, I walk by a car with a bumper sticker that reads, "Michael the Archangel protects Us from Satan." And everyday, I'm back in the metaphysical bleachers, watching Satan do his free-floating shuffle-step, his burnt-yellow eyes looking for an opening past the big angel. And when it comes, slipping by like grease, or shooting by Michael's great white wings and leaving a black spot of suet and mayhem at the door of someone's day. But in an instant Michael springs up, spear in hand, three bounding leaps and he's back in front of the arch-demon, shield up, twice determined, back in control. Oh, and such daily battles, an endless bloodless war, out there beyond these mere mortal dimensions.
And if only we could grasp the truth of metaphor,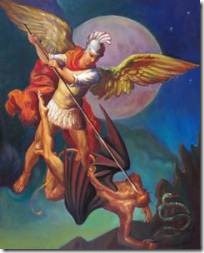 this wouldn't be unreasonable language to help describe instances of evil. If we could, imagine.
But this is our modern problem, our hangover: the keg of Scientific Method long tapped, the many draughts of spiritual materialism downed before grey dawn, our Christian heads aching and pounding, now thinking that a literal reading must be the only true reading, a fundamental reading, an inerrant, authoritative, infallible, inspired reading.
And in the empirical fog surrounding our Thomas Nelsons and Scofields, our imagination sputters out leaving us self-condemned by literalism's stasis. In this exegetical irony we bind ourselves to errancy and ignorance.
Certainly a literal reading, what pre-Enlightenment folk called a "plain reading," is often a true reading. But many times a literal reading is an inferior reading or simply a nonsensical reading.
Biblical writers' understanding of the nature of reality could not be more removed from our own. And too, our understanding of the purpose of literature is not that of a writer in the first-century. So to adopt a reading without wrestling with this is lazy and dishonest.
Because the problem of literalism is mistaking a flame for the fire. One facet for the whole gem. One colour the whole spectrum. You get my drift.
And so, Satan, is just that volitional metaphysical entity jamming up the works, devouring the undevout and looking for any chance to trip us up. What comes of such a failure is to miss the satanic, the evil, that hides within dehumanizing institutions—systems of domination. That lives at the heart of state repression—from forms of socialism to fascism—that exults in racism and patriarchy, and hides within bureaucracy and capitalism.