Yesterday I received the following letter from pastor Shawn Birss, who is the pastor of a church called, Look to the Cross.
"I read your recent article in the Edmonton Journal regarding the Church and Occupy Edmonton.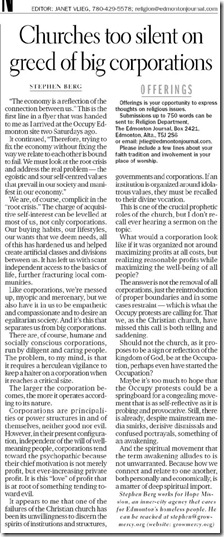 (Novemeber 5, 2011)
I'm very, very pleased to tell you that the church is indeed at Occupy Edmonton. In fact, our church has been given the open door (by consensus) to be a Jesus-following presence at Occupy Edmonton, and to encourage other Christians to do so as well
You can read the proposal I made at two General Assemblies here: weprayforoccupy.blogspot.com.
Four from our church have stayed at the camp, and we intend to begin having a rotation of people who will stay there overnight in prayer and in solidarity.
Besides this, we have been welcomed as we have come and helped at the camp in lots of other practical ways.
I am hoping to begin taking further steps toward engaging the evangelical churches of Edmonton in the next week. My intention is to begin by asking them to pray. This we can do, no matter how much we do or do not agree with or even understand Occupy. I'm also cautious about asking churches to "support" Occupy. Though I am very much for Occupy, and support them far more than most other evangelical Christians I know, I am wary of any attempts to use the influence of the church toward political ends.
Anyway, if you are at all interested in putting some more action to your words regarding the church at Occupy, I'd very much like to help you do so. Would you help me get the word out to churches regarding praying for Occupy Edmonton?"
Thank you Shawn, the word is going out.