Would Jesus side with the Wall Street protesters? asks Dr. Jerry Newcombe, of Truth in Action Ministries. Dr. Newcombe has taken time to watch some videos, has seen what's behind the 'occupy' protests, and has exegetically discerned that it's not pretty. In fact, it may very well be demonic. Or as bad—loutish. A rabble of lazy, "able-bodied, twenty-first century hippies."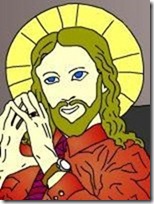 What appears to have raised Dr. Newcombe's eyebrows the extra inch however is the fact that 'progressive' evangelical Jim Wallis, a thorn in the fleshy-cheek to less 'progressive' evangelicals, is saying that Jesus is already there. Of course if that's true it's all too embarrassing to the more pious E's who have built a safe spiritual Jesus on the ethical absolutes of the Almighty. You see how it looks bad for this Jesus to be at the protest; too many occasions for misunderstanding, even scandal, maybe jail time.
This doesn't seem to bother Jim Wallis, who's already been arrested 22 times, and is married to a Vicar—I suspect some evangelicals think the later should lead to the former—but of course the arrests  have all been for civil disobedience. Wallis has tempered his activism as he's aged; these days he's even rubbing tailored elbows and offering spiritual advice (progressive evangelical advice one supposes) to Mr. Obama. Hard to say if this has helped anything.
In any case, you see how these two evangelicals may simply end up glaring at one another across the valley of Raphaim; Jim's Jesus isn't Jerry's Jesus. Jim's Jesus, is, well, an able-bodied misfit and first century hippie with a work ethic that kind of sucks, at least one that tapered off, making him a poor role model for hard working fishermen; then again he was irresponsible from the age of 12, had questionable family values, was a nard wastrel, wine maker, anointer of people with oil from undisclosed herbs, curser of fruitless fig trees and religious systems (must have seen a link), who was apparently okay getting arrested to make a point, noncompliant while in custody, and to the end—forgiving of thieves and most everyone else…I mean hardly a 'Truth In Action' kind of guy—even though he claimed all he did was do the truth—just someone who might like to hide out among the rabble at the "Occupation." I suspect Dr. Newcombe's Jesus might be easier to spot down at the park.
Thing is, as both Jim and Jerry know, Jesus is the merciful type…forgiving even of fraudulent CEO's and their tax lawyers. Perhaps you'll recall Zacchaeus' bump with Jesus, so smitten that he gave half of his possessions to the poor and paid back everyone he cheated—four times the amount. Imagine now, with me, Goldman's CEO, Lloyd Blankfein, up a tree in Zuccotti Park, scanning the crowd…and that's why I'm going with Jim's Jesus.