Having worked for Hope Mission for over 20 years, I take it as something like an axiom, that meals are the connection. Beyond the programs—recovery, counselling, life-skills, job training—as important as these are, Hope Mission's most vital ministry is food.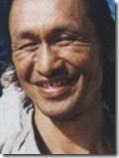 When it comes to bringing down barriers, there's no substitute to sharing a meal.  It opens up a simple conversation, and creates a small humanizing moment; it forges a link with another soul. And this is what Hope Mission is about—what it does best.
Lindy, our Food Services manager, has a motto concerning this: "Dining with dignity." This is the simple act of offering food and genuine hospitality—creating a sense of belonging in a space that promotes healing, hope, and change.
If this is a value that twigs your heart and mind, consider donating to Hope Mission's, Hope for the Hungry Radiothon. Tune in to CISN FM or 630 CHED, call 780.453.3877 or visit hopemission.com. For $57 you can sponsor meals for one person, for one week.
That's one week of potential. A week of hope. A week of dignity that could well be the beginning of a new outlook and direction for someone from the street.