When I hear the stock market has fallen,
I say, "Long live gravity,
Long live stupidity, error and greed
in the palaces of fantasy capitalism!"  –Wendell Berry
We've long been told that our country, our western culture, was built on Judeo-Christian principles. We're told of this by conservative voices, particularly when social issues of abortion and same-sex marriage arise. But then I have to ask, what about the social issue of money? What happened to the concept of enough, and its ancillary notion of contentment? Or is this a concept the rich expect the poor to have?
New Testament contentment seems a quaint notion today. The prayer of Jabez, with its enlarging, its property parlaying, suits better our acquisitive natures. And an expanding economy is taken as evidence of God's blessing.
But when the economy flags, it's not corporate gluttony on that's on trial, it's all those social morals, as if habitual acquisition wasn't a moral issue.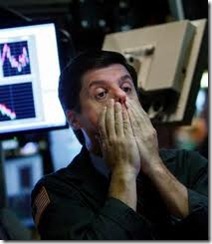 The economy today is a vast and unassailable a deity. Its refrain of everlasting growth is the red of our blood. When it is angry and threatens we are seized by fear and will sacrifice our sweat and sleep, not to mention our freedom, for its appeasement.
And so we ignore the faceless violence of mega corporations whose leaders read the Art of War, pay less tax than a Tim Horton's employee, and allow governments their pretence of control—and in exchange we are offered, for example, an omnibus crime bill, to keep us safe.
We worry our immigration policies, deport illegals, while ushering through our front door, the greed of global conglomerates who roll over those most passionate about local economy and community.
We clap irons on G8/G20 protesters while allowing gang traders to bet on sinking markets and so remove billions of dollars of value in a single day, placing at risk the jobs and livelihood of millions and foundering entire countries. They are not deemed louts and looters, but shrewd operators.
And how in the first place, did we (particularly we subscribers of Judeo-Christian principles—with our biblical understanding of usury and Jubilee), come to a place where we see nothing wrong with billions of dollars of value having no mooring in time and labour or in an actual product?
There were many things to be sad about in the economic crisis of 2008, and there will be many more in a global calamity, but the end of delusion about perpetual growth, about fantasy capitalism, is not one of them—it is a mercy.