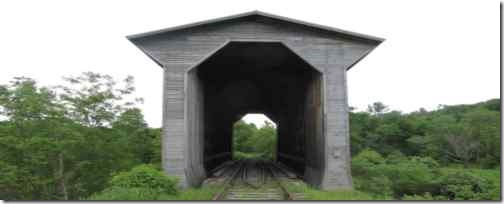 Read Gary Snyder's Three Worlds, Three Realms, Six Roads,
for inspiration, for the music, for a lark.
Consider chipping sparrows, wonder to fall like one.
Grow a beard, discover the colour white,
See how it matches the pale ball around your iris.
Stop in Chicago at Jake's Pub, visit your dream of seeing Muddy Waters.
Try very hard not to squirm
While admitting to yourself all your bluesy dreams of fame.
Stop in Cleveland and loom over Lake Erie,
At the Hall, lift your arms in homage to rock and roll.
Listen to skies full of thunder,
Download 182 bird songs, catalogued by John Neville.
Read 30 Canadian poets.
Fall in love with Bronwen Wallace.
Try to feel undaunted reading E.J. Pratt's bio.
See your three Benedictine vows topple like dominoes.
Watch a fat moon rise through aspen, check its position again at 3 AM.
Conclude that there are far too many engines on earth.
Forgive yourself for skimming the last half of Homer's Iliad.
Marvel at the contrast between size and song of the house wren.
Hold a limp slate-coloured junco in your hand,
And wonder at its fall.
Take pictures of a grain elevator named Dog River.
Watch the Souris River flood from Weyburn, Saskatchewan to Minot, North Dakota.
In Fargo, be asked what Providence you are from.
Hike along Eden Road, in the Lowell mountains,
Meet a young woman who does not slap at mosquitoes,
Simply brushes them away. Consider your lifetime of serial killing.
Ponder the immense idiocy of the inchworm.
Or is it the practice of courage
to launch out anew up every blade of grass encountered?
Listen to jazz in Burlington, Vermont,
While drinking Speeder and Earls coffee.
Get lost in the tangle of roads around Eau Claire, Wisconsin,
Later, on CBC radio, you discover her native son and Emma, Forever Ago.
Lock eyes with a cow moose, and her calf,
Did you feel the sudden compression of air in that triangle?
Downtown Toronto, in an elevator, descend 22 floors with a body-builder,
Whose pectorals have climbed thick around his neck to his very eyelids,
Whose blink could snap you like a sprig.
Did you feel what happened to the air between you?
And how you couldn't take your eyes off the numbers, scrolling down,
Interminably.
Ride the streetcar to Kensington Market.
And try to take in the full measure of Holderlen's 40-year silence.
With your partner, search for an ice cream shop in Niagara-on-the-Lake
Where twenty-five years ago,
Among all those flavours, she laughed that you still chose maple walnut.
Well, you got confused. Didn't you?
Become intimate with death while considering choice.
Be grateful for the big mercy,
That's built from all the small ones.
Every evening after supper walk the treed lane with your wife,
Close the gate, and consider the vesper sparrow;
Remember how out of the 182, it sang that soft-throated evening song.
Pitch your tent beside the Yellowstone River Inn in Glendive, Montana,
Listen to old rockers dance through the night.
Walk along a ridge of the Badlands, see bison sleep in the sun.
Stand on the glass floor on top the CN tower with your daughter,
Pretend you're falling.
Sample Steam Whistle lager with your daughter,
Pretend she's without pain.
Listen to the great great grand daughter of Nathaniel Hawthorn
Talk of poetry, then give her a hug.
Go birding in deep morning mist, in Craftsbury, with David,
And hear the olive-sided flycatcher demand, "quick; three beers!"
Late at night, fourteen writers,
Shots of Tequila between three minute speed writing exercises.
        Can poetry come of this?
        Can Dada, can Zaum?
        Can transrational Haiku?
Pick wild strawberries in a ditch and eat them,
Then remember that the ditch was sprayed by the county.
Consider, without animosity, the night flowering catchfly.
Spend time thinking about the apocalyptic sayings of Jesus.
Be told your writing contains cliché— 
        —truth be known, you were fit to be tied. 
Discover again, that you are a Christian, captive, unable to escape,
Held by the terrible beauty of the beatitudes;
Oh but see how we are unable to endure correction, or misunderstanding,
Or grasp that having a Christian position goes against the gospel.
Camp at Moses Lake, New York, find a walking stick
You'll take back to the providence of Alberta.
Crouch by a stream running into a St. Laurence estuary,
Wait for the goslings to cross, should they make up their minds.
Watch author Craig Childs gently remove a caterpillar from his shirt collar.
Be suddenly ashamed of killing a rattle snake, cutting off its tail,
Carrying it for years in the glove compartment of your car—
As a talisman.
Think of your work, wonder the placements, the passing of years.
Do not plan on going back refreshed, simply hope it happens.
See how much you miss the people.
Greet friends from years ago.
Eat Amish ice-cream in an Amish Village.
Catch the excitement from Deb,
Of spotting two pileated woodpeckers outside our cabin.
Come to believe in your ability to love all people,
But know intimately the failure of your attempts.
Be a guest at a Japanese tea ceremony, with Don, and his wood-fired kiln cups.
In Minnesota, talk to an old monk at the Collegeville Bookshop
Who knows Kathleen Norris; remember your Cloister Walk.
Wait for the sun to strike your eyes through netted poplar
As you lie in a cabin bed. 
Consider the promiscuity of gods, wonder their fall.
Know your own gnawing in the absence of God.
But see how God's nearness can kill.
Two elderly ladies wearing period dress:
You solicit them for a picture, now smiling, standing between them,
Grab them tight and hear them feign shock.
Observe, over the course of three days,
The rise and fall of a white mushroom.
Commit to flames the dying limbs of a box elder.
Taste the sap of a green ash,
Wear that life on your lips for as long as it lasts.
Sadness while driving through Flint, Michigan and Buffalo, New York.
Walk the Mississippi as it runs between St. Paul and Minneapolis,
And falls over a receding limestone ledge.
See the sacred space where Chippewa once camped,
Down the street from a bar where Jethro Tull will play Friday night.
The thespian woman in line beside you comments that what the world needs
Is more clean men. You have just showered and put on a fresh shirt.
A friend says about your outhouse in the bush, that it's nicest he's experienced;
You believe that his comment has landed not far from life's essence.
Play disc golf in a gale with your brothers and nephews;
Come to believe, always and only, in the power of a next turn.
Take that perfect comedic shot of wapiti mooning a 'No Trespassing' sign.
In Canmore, sink to your waist in wet snow, climbing to Turkey Falls.
Discover the origin of its name: the necessity to hike after a turkey dinner.
In a small car, drive 10,000 kilometers in one month.
Walk the top of the Capilano dam with Deb.
Ride the Queen of New Westminster from Tsawwassen to Swartz Bay,
Remember the sea and spray and when you could sail on three dollars.  
Watch coho and chinook breach the surface of a clear green river.
Drink NK'Mip Qwam Qwmt and smoke a Mamona Island Prince,
With your Sto:lo sister-in-law.
But remember you are not Che, with a Monte Cristo between your lips. 
Understand that the only thing thoroughly original about humans
Is our highly evolved mimetic abilities—what wonder, possibilities, what danger.
Worry, without much reason, about your children.
Know that this is only a form of deep love.
Tell the inquiring young barista at Kanata Coffee that you are writing poetry.
Now was that so hard?
Recognize that a poem, too, can be interminable.