This birdhouse is 45 years old. I built it when I was 11. I do not know how long birdhouse's are expected to endure, I only know that when I built it I wasn't thinking of it becoming, by my lights, and mine alone no doubt, a heritage birdhouse.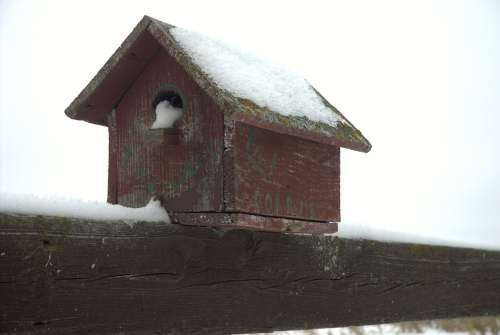 I know the day and the place where I built this birdhouse. I set up our old sawhorse on the tramped-down pineapple weed and portulaca and immortal quack grass on the shallow hill in front of the barn. The day was sunny, early summer; as for the planned birdhouse, too late for birds to nest—only an invitation to take note for what might be the following year.
I used my dad's saw, the one that had given up its tip in one of those accidents tools have, shortening it by a couple inches. It broke at an angle, like a cut that veered off the line. Twenty or more years later my dad would commission my brother's mother-in-law to use this saw as a medium for a folk-art painting. She painted a forest scene with a lake in the foreground—a serene totalizing effect—and a fitting retirement for a tool that was used to sunder.
It's the same saw that I hung in our cabin after my father died. The cabin was later broken into and the saw stolen. It now hangs illegitimately in a basement somewhere in eastern Canada. I believe this because the thieves had dropped a glossy ATV catalogue in the drive as they sped off in what I suspect was a half-ton truck. The catalogue had a dealership stamp from Orillia, Ontario. They were scoping for ATV's; I don't own an ATV and they hated to leave empty handed and so had picked the saw off its two nails above the south window and checked out. My hat was thrown by the fire pit, an added back-hand for not owning what was expected.
In my hands the shortened handsaw handled better than our new one. And I liked using it even though by much use its teeth were duller and their off-set narrower causing a kerf so thin that the saw squeaked against the pine on each stroke and threatened to lodge. But I measured, marked lines in pencil, and my skinny arms powered through each cut and I was left with seven reasonably straight pieces from a length of 1X6 barn board.
I used a hand awl, and I suppose that I used a one inch bit for the hole, but I can't swear to this. Hole size was guessed at; I discovered later that it's critical. House size is also important for attracting various kinds of song birds, but not as critical as hole size. But I had guessed well enough for wrens.
I used galvanized one and a half inch nails and my own wood-handled hammer to cobble it all together—with only one mishap—a split in the back panel where the nail came too close to the outer face. I fixed it with paint. I used the end of the brush like a sword and stabbed and poked the red barn paint up into the crack and then over the face of it so that in the end it looked like a swell in the wood. Perhaps that's why the house has lasted all these years—copious coats of bright paint to cover an honest mistake.
I thought myself clever to write in green paint, "Free boarding" on one side, and "The Wren" in a smile-curve under the hole. The thing I don't remember is fastening a perch under the hole. While a perch has a certain welcoming aesthetic, it isn't necessary and can be an advantage for predators.
This picture was taken a few winters ago. I hope the birdhouse is still there on top the board fence at the abandoned Riverside farmyard. I hope it is still welcoming northern house wrens or their avian comrades. Rummaging through an antique store over the weekend I found a reasonably intact copy of Birds of Alberta, by Salt and Wink, 1958. A sweet find. I learn later that a group of wrens—they are a sociable lot—are called a chime. It does my soul a good turn to think that the old yard and fence and this old birdhouse, in their apparent silent decrepitude, go on hosting chime concerts through the coloured months of each year.