Past the hypocrisy of Mr. Harper, the peonage of the Senate, the C-311 debate that never was, and was never intended to be, past the snap-trickster vote, past one of the most undemocratic acts our House has seen, past the words unprecedented, irresponsible, past this trespass, languishes our trodden earth.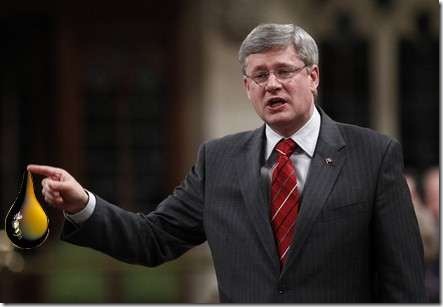 The earth, we Christians say, is a gift requiring stewardship. Obviously for our current political custodians and this (Christian) leader, this means something like: plunder now, the resources we can, because there's no use polishing the railings of a sinking ship. 
This once sea-worthy earth that engenders, feeds, sustains, breathes into us; this earth to which we are inextricably bound, body and spirit, groans louder, travails. And we who call ourselves believers content ourselves that this is some kind of eschatological sign.
We, to our sentient earth, are the impossible-to-potty-train two-year olds, habitually soiling our soil and tossing our diapered waste into rivers and seas. And to those who come after, we bequeath a diseased earth. Somehow in our infantile dotage we have accepted environmental demise and have attained to some privileged spiritualized place beyond the stars.
It's time we shake ourselves, and grow up; it's time to make our voices heard. Yes liberalism is dead, but perhaps a new burgeoning compassion (without label)—that is occasionally evident—can stem and turn old attitudes and habits; for the sake of our good earth, for the sake of ourselves—which is saying the same thing.