A chilly morning breaks over the towers. I'm walking down 104 avenue waiting for purpose to catch up to me. Coming up on 110 street I see a couple beside Ceili's. They are asleep under blankets. The traffic is still light but not for long. Soon they'll be awake.
I wonder what will call them toward the day. Yesterday I talked to a man—matted by days of grime—begging for change. He was sitting on a bench on Jasper. When I gave him my change he showed me a Bible Society tract and pointed at the picture of Jesus that was on the front and said, "this is how I keep on." His speech was slurred but his face was solemn with sincerity.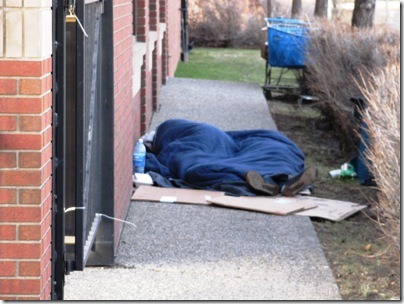 I walk toward the couple and take out my camera. A man in an orange vest picking up trash nearby laughs.
I'm warmed by the thought that they have each other. Of all the people I meet down here, most are scraped hollow by loneliness. It's the same species of loneliness we all know about. But everyone is lonely in their own way; the children of loneliness each have their own twist and bend.
A man who wards off loneliness by clutching a bible tract is doing what he has to. Ask him his name, talk to him, slap him good naturedly on the back, a filling for a while, an untwisting for both of you, for a moment. And it matters. And more matters more.
—
Where I write this I hear Dylan's It's all over now, baby blue, and note the line, "The vagabond that's rapping at your door is wearing the clothes that you once wore."
We judge ourselves by our downtown arenas, the relative smoothness of our roads, our access to shopping malls. We don't judge ourselves by what we cast off. We don't consider to work into the poll a loneliness quotient.