Here's your invitation to an evening of music and narrative, song and prose, that will, yes, entertain, but will also clear some ground and allow you to sink into a place of longing, belonging, and reflection.
Along with some Christmas favourites, you will hear original work from Andrea House, Amy Van Keeken and Dana Wylie. Each of these artists have toured clubs, festivals and concert halls, across the continent. Each  performer has garnered long lists of glowing reviews. If you have yet to experience their music, it's high time to treat yourself to the liquid wonder and the natural edenic power of these voices.
In between songs there will be readings from some of my writing. Giving life to these pieces will be Coralie Cairns. Coralie is a Sterling Award winning actor whose work crosses and encompasses stage, film, and television.
Besides listening to artists that lean in with their hearts, and lead with their souls, what excites me about the evening is that several of the writings chosen will give voice to the people of the street, those served and cared for at places like Hope Mission.
Pulling all this together is Fringe Festival veteran and award winning playwright, David Belke.
You have two evenings to pick from. We would be ecstatic to see you there: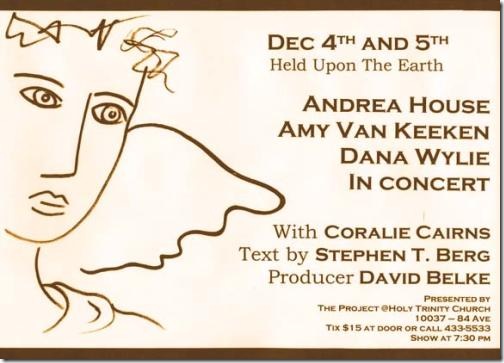 Presented by:  The Project @ Holy Trinity Church,
10037 – 84 Avenue,  Tix $15 at Door
Shows start at 7:30 PM
Artists:
Amy Van Keeken's Bands: The Secretaries,  Dub Vulture,  The Colleen Brown Band
Dana Wylie (Website)   (Myspace)
Coralie Cairns   (Theatre)   (Filmography)
Producer David Belke