Time for honouring earth, air and water. Time for climate justice.
Parliament needs to address the dangerous effects of global warming and pass legislation that sets science-based targets. The Climate Change Accountability Act – Bill C-311 – is a good start, and Canadians are watching. We want to see Bill C-311 passed before the world heads to Copenhagen in December.
This, in essence, was the message given Parliament Hill by a hundred or so students and others attending Edmonton's climate flash mob event. Initiated by Green Peace, the local climate-wake-up-call was one of a couple thousand flash mobs world wide.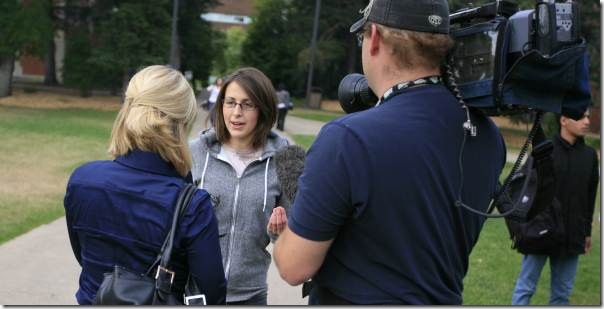 Teryl Berg interviewed by Global TV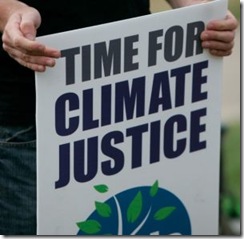 Organized by Teryl Berg, and held on the University of Alberta campus, the flash mob ostensibly achieved to keep politician's feet to the coals. But it was also a reminder for all of us to keep vigilant regarding climate care. This is, after all, a question of justice. 
The meeting in Copenhagen this December can either turn out to be an occasion for posturing and bureaucratism, or it can make significant strides to work for a global climate deal that is, as this event has called for, FAIR AMBITIOUS and BINDING.
Fair – for the poorest countries who did not cause climate change, but are suffering most.

Ambitious – enough to leave a planet safe for us all.

Binding – with real targets that can be legally monitored and enforced.
But don't stop with one flash mob, continue to keep the pressure on Prime Minister Stephen Harper, Minister of the Environment, Jim Prentice, and Minister of Industry, Tony Clement, to go to Copenhagen and advocate for a FAB treaty.
Go here to read The Gateway's coverage of the event and Teryl Berg's interview and comments.
Check here for flash mob wake-up call in the press.
Thank you to photographer Ryan Kelly for covering the event. All pictures by permission of MagnaSona Photography.