Sky Dancer said,
These small poems are an approaching thunder that make me lonely and anxious. They break my heart, make it weep. Yet they mend me.
I'm not sure if there is a greater tribute that could be paid to Wendy Morton's new book of poems.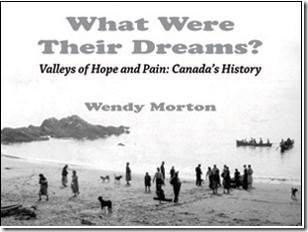 What Were Their Dreams? is a collection of poems layered over old photos. These story-pixels come together to produce a mural that at once pierces mind and soul, and clears hope for new redemptive dreams.
The book is an act of freedom. Should we listen with the ear of our hearts, it picks the lock from inside our own prison—that rotten legacy of Christian residential schools and the pain that is still evident among survivors and children of survivors. That legacy is not ours to "fix." Only to try to understand, and only then act, and that, in compassion. This book is the free and therefore true act of a poet who has trained herself in reflective understanding. She peels off old skin, the scrub of neglect and false memory, mirroring a deep respect for the people.
(Wendy's "mural" comes from Port Alberni BC. I feel a local connection to some of these poems as Port Alberni was the first "working" stop for a few wide-eyed noobs from the prairies. Still, I was not such a nebbish as to fail to kneel in Alberni's Cathedral Grove. For perspective, when I got there in 1973 the residential schools had only been closed for two years.)
Wendy Morton lives in a house overlooking the Strait of Jaun de Fuca where she watches hummingbirds and Killer whales and cares for flowers.