In these lay a great multitude of impotent folk, of blind, halt, withered, waiting for the moving of the water.  For an angel went down at a certain season into the pool, and troubled the water: (John)
I set out to find this pool, but I wonder if I'm a couple millennia too late. There was that cave by Nelson, BC. I crawled in and sunk to my neck. I floated in its sulfurous heat, heady with carelessness. But that was then.
I'm back on the hunt. Because there are people I know that I would bleed to see lay in that holy-simmer.
But those pools are difficult to find. And hard to get to for we halt and withered. As unlikely as the mid-Atlantic's three-mile-deep seamounts that lie beyond the abyssal plains. Here the deep chimneys belch out water hot as lava giving life to tube worms, and crabs and fish where no fish should live. These pools I know about but are as lost to me as those ancient pools at Bethesda and Siloam.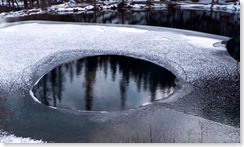 But I'm a hound at hope's heel. Perhaps, I think to myself, in the Rocky Mountains. I'll watch for one as we go on a short pilgrimage.
Would love to make that find. Put a cairn by it to allow the return with family and friends–and we'd all immerse our bodies beneath the water's Divine agitation and feel healing come swiftly through swirling water, penetrating flesh and blood, nerve and sinew–mending mind and emotion with a thousand deep caresses.
We search. We wait, for the water to move. But then we go do the work–we add the salts and open the jets.
I pray, I scan for signs and wait for miracles. I'm what you'd call a believer–perhaps incurably so. But I also understand this Patrick Lane poem.
DINNER
I would like to have dinner with the man
who didn't follow Christ, the one who,
when Jesus said Follow me and I
will make you fishers of men, decided
to go fishing instead, getting in his boat,
pushing out from shore, his nets clean
and repaired, thinking I will have to work
even harder now in order to feed
everyone left behind. I would like
to sit on the beach with him
in front of a careful fire,
his wife and children asleep,
sharing a glass of wine, both of us
telling stories about what we've done
with our lives, the ones we caught,
the ones that got away.