Orange Christmas lights, one slim blinking strand, draped over a deck railing on an apartment block across the street–like they were thrown from 20 floors below by some kid with a great arm, marks Christmas.
Christmas will happen. Happy flashes of colour, parts melancholy, haphazard moments of joy, a few frazzled tense moments, bits of pure sweetness, and pieces of worry for the absent ones. It all gets mixed together like some bedraggled batter we hope will harden into something tasty–and sometimes we're amazed at the results, sometimes it turns out to be a Christmas cake that's off, and has too many nuts. Either way, it's not always a stable time.
Years ago I spent Christmas day with "The General." We shared a ham sandwich and a bottle of Weisers. It was a long day. The streets in downtown Victoria were gray and abandoned. I was of 'no fixed address' and The General lived in the Yates on some kind of pension. Our objective was to wait Christmas out until the relief of Boxing Day, and go back to the Beaver Pub.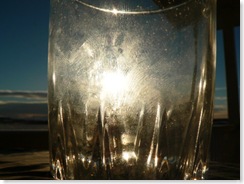 That's where our group met The General and gave him the name. He was a kind of add-on. He was always at the Beaver. And during those days, so were we.  Somehow, whether by accident or plan the General and I were the ones left over at Christmas.
The General was not a stable man. He sat bent, as though he had a truckload of war secrets. And in the Weiser slurry he unloaded most of them that day. I did what I do, I listened. The stories he told he couldn't quite get straight…and I wandered, not remembering the stories only the dim room, the wood floor, cracked table and chair, the way The General sat on the metal-frame bed, tumbler in white-hand, his other hand straightening his dress shirt and and straying to his nick-shaved neck, and the way the room smelled of cologne.
The General was not a pathetic man. He was however a lonely man. As was I on that day.
A decade ago, while still thinking about becoming a Benedictine oblate, I read a paper on the physiology of love. It was fresh information at the time. The three MD's theorized that our brain systems are not a "closed loop" but an "open" one in which other people influence our ability to properly function. They asserted that adults "continue to require a source of stabilization outside themselves." And that in every important way, people cannot be stable on their own. Seems Benedict intuited this 1500 years earlier when he made stabilitos one of the vows. Even highly cloistered Benedictines know that the vow of stabilitos cannot be made in isolation, let alone carried out. It's like our limbic systems demand we be with people who regulate us.
It was, by all accounts, a shitty-70's-something Christmas for both The General and me. Yet, it turned out we were something like each other's saving grace. With our limbic demands met, we made it into the next day.