From the crown of Pattaya Hill, I see the astonishing natural beauty of Pattaya, reclining as it is, in the lap of the Gulf of Siam. Then, descending into the heat of the heart of town, I feel the tension of another reality.
Pattaya is a casualty of the Vietnam war. Before the war, it was a fishing village. During the war, Pattaya was an R&R destination for American soldiers on leave. Today, from the steam of two decades of foreign fuelled sex-trade, Pattaya is the number one sex destination in the world. In this smallish city of less than 100,000 people, there are around 20,000 prostitutes.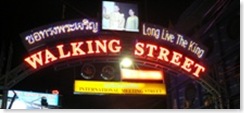 We walked "Walking Street" in the early evening, when things were slow. The strip was uncrowded but the girls, and the "lady-boys," (some of Thailand's most beautiful "women" are boys) were already lining up…dancing, flirting, lounging.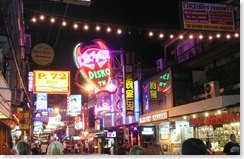 Pattaya siphons off young girls and boys from the villages of North Thailand with promises of wealth. And because parents are often beneficiaries, they show little resistance. While the sexual mores of Thailand are relaxed regarding prostitution, and may contribute to the ballooning trade, money remains the lure. Annually, it's a 25-30 billion dollar industry.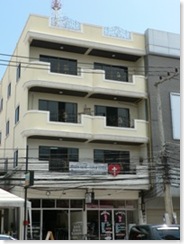 But, as Nella, the Director of Tamar Center says, the "promise" of Pattaya is short lived, and often ends in despair, for children and families. Suicide is not uncommon and HIV/AIDS is still exceedingly high. Pattaya's Tamar Center is working against the tide. 
Tamar Center is an attractive, multi-function, four-story, building. One half of the ground floor keeps a tidy and trendy coffee shop. The other half holds a hair and beauty salon. Behind these shops you find a small but active bakery. A number of young women, once caught in the sex-trade, apprentice and work here at Tamar.
On the second floor, around stacked tables of mulberry craft paper, more young women, designing, cutting, measuring, and gluing. More young women who have chosen to leave the strip and try out the Tamar Center. They make greeting cards, works of art really. The creation and sale of these cards bring a modicum of income for the girls. More importantly, they find in this family-like community, a sense of self worth and dignity.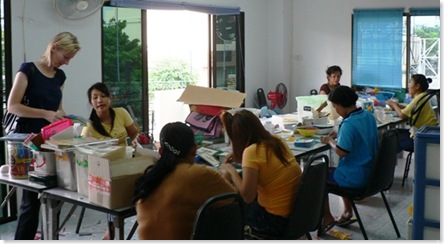 In the mean time, while city commissioners are ambitiously trying to sell Pattaya as a resort city for all, there are few initiatives aimed at addressing prostitution.  Project L.I.F.E.'s Tamar Center stands relatively alone in it's resolve, backed by hope and prayer, to extract as many girls as possible out of a degrading and exploitive trade.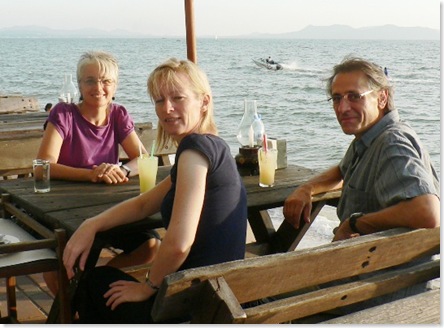 (Nelle and Eve, director and manager of the Tamar Center)