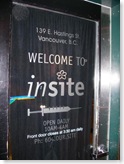 I'm recommending that you take a moment to read Connie Howard's article, Well, Well, Well, No InSite, No Insight, about Vancouver's, safe injection site. Why? Because Stephen Harper seems bent on shutting it down.
I suspect the safe injection site doesn't sit well with him. It probably has to do with a personal philosophy, or principle…which is fine, we all have them–philosophies/principles. Except here, his principles will do damage to people who need help.
I guess he agrees with his health minister Tony Clement, who calls safe injection sites, "abominations." It's telling language. And it's a shame. Because on every humane and practical score, as Connie H. reports, InSite makes sense.
Harper's own advisory committee has examined the evidence and concluded that the site makes financial sense, saves lives, acts as a deterrent to drug use, has not increased crime, drug dealing or relapse rates and effectively increases the number of addicts seeking detox and treatment. Criminologists commissioned by the RCMP say it should be left open.
There should be no controversy about reducing harm and saving lives.
If you care about harm reduction and basic human dignity, please read the article and sign the letter to Stephen Harper, linked at the end of Connie Howard's article.