Before you vote, here are a few techniques to make your time in the voting booth a bearable experience:
-Wear something comfortable…but no sweater vests.
-Picture kittens, not white Huskies.
-Meditate on proportional representation…I mean really meditate!
-Recite some Rumi. Like: "Where is the one whose candle burns in the dawn?"
-Hum anything, except Celine Dion's, "You and I." (It just didn't work for Hillary C.) Better: Frank Sinatra's, "High Hopes," or Tom Petty's, "I Won't Back Down."
-Give a Twoonie to the homeless guy outside the polling station.
-Finally, gird your loins, and enter.
And then, upon exiting…having done your best at marking an X, relax, and console yourself with this:
While I was in Bangkok the governor's race was on.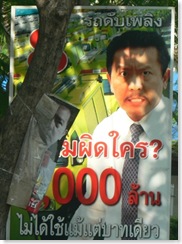 Consider: At least we don't have candidates like Chuwit Kamolvisit.
Chuwit made his fortune on Bangkok's sex trade–his, "empire of flesh." Having done so, he feels eminently qualified to be Governor of Bangkok. And so he's financing his own campaign to take on the hypocrisy and deceit that is, as he says, rotting Thai politics.
Here's some Chuwit candor:
-"Politics is so dirty, so ugly, I would rather sit tight in the nightclub, surrounded by girls, smoking cigars, drinking brandy, champagne. That was the perfect life."
-"Who better to wipe out bribes, than someone who got rich paying them?"
-"I cannot fix the traffic. Nobody can fix the traffic."
-"The sex business is not a problem. If you don't have sex, that's a problem."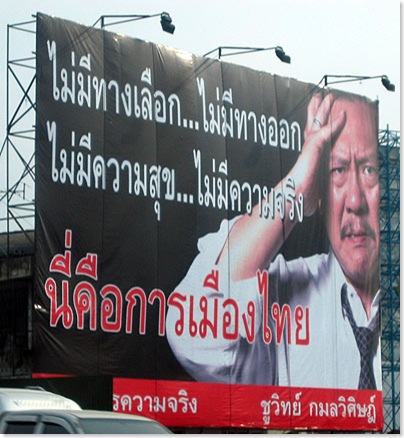 One of Chuwit's many billboards reads: Last night I dreamed that Thai people love each other, but will my dreams come true? Now there's an appeal that has possibilities: A kind of introspective anxious snivel. Ah yes, now we're back to Canadian politics…save the introspection.