Like you, I love an adventure. I love the anticipation of a new experience. I love seeing new and different things. I even love the travel involved. I like all kinds of roads. I like hotels and lobbies and lounges. I like airports, ferry terminals…even bus stations–but especially train stations. I have romantic memories of all the train stations between Melville, Saskatchewan, and Montreal.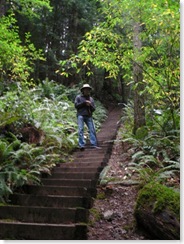 I love words like journey and junket, expedition and excursion. I place a great deal of import on place. And even while I believe that all ground is holy, I also believe there are sacred places, or places made sacred, and to journey to such a place–whether it's under a birch tree in the river valley, or an ashram in India–is spiritually forming. And of course, that is pilgrimage.
But, however much importance one places on a geographical journey, it is crucial to remember, as Merton reminds us, that, "Our real journey in this life is interior; it is a matter of growth, deepening, and of an ever greater surrender to the creative action of love and grace in our hearts."
In 1968, when Merton penned these words, he added, "Never was it more necessary for us to respond to that action." It was necessary then, and it is necessary now.