A plug for a friend: This Thursday, 7:30 PM, at Edmonton's Holy Trinity Anglican Church, Andrea will be celebrating her new CD, The Same Inside. (Tickets)
Having worn laser grooves in her last CD, Heart's Hotel, I've been waiting patiently for this release–as has a crowd of others.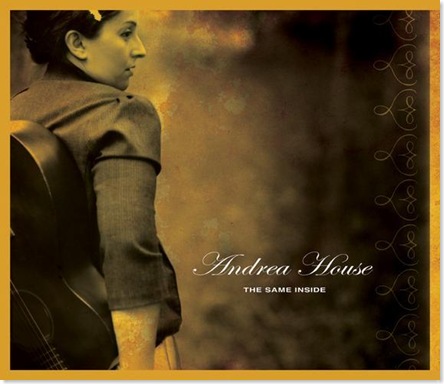 Knowing Andrea, The Same Inside is a perfect title. Andrea's same-inside, is a blend of grace, compassion, humour, and large-hearted humanism, with a kind of, well-behaved-women-seldom-make-history honesty. And it's honesty that comes out in her music and her voice. A voice that's soulish, earthy, and wise–and sweeter than sangria.
Buy the CD. And enjoy. 

Below are a few excerpts from Andrea's interview with the Edmonton Sun's, Fish Griwkowsky. (Click here to read the entire interview)
…on the CD's title:
….the title might make you wonder, well, what exactly is the same inside? The obvious answer is House herself, having successfully become an adult and a mother. Hey, she even got married this month – but more on that later.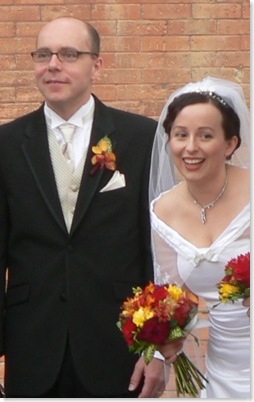 …on the gifted Chris Smith:
I'm a songwriter who needs a good producer," House offers. "Chris Smith knows how to take my songs and colour correct them, and he can talk to musicians in a way that makes sense to them. In fact, he's so good at it I married him last week. Seriously, Chris and I actually got married on Monday, Sept. 8.
…on why the CD release party is in a church:
I have a romantic obsession with churches. I learned to sing with my grandma in a clapboard church in Arrowwood, Alta. My dad carved the alter table. It's the size of most people's living rooms. I miss it.
(btw: Lovely wedding picture taken by your's truly…not anybody at the Sun.)

For tour dates and any other information, check out Andrea's website as well as her Myspace site (See sidebar Links and Blogs).