Tomorrow our Prime Minister will offer an apology to Canada's First Nations people. We can only hope he doesn't embarrass Canadians by qualifying, in an way, what was an egregious, even genocidal-type crime, against an entire people. Chuck Strahl, Minister of Indian and Northern Affairs, is saying that won't happen. He says Stephen Harper will spare no detail.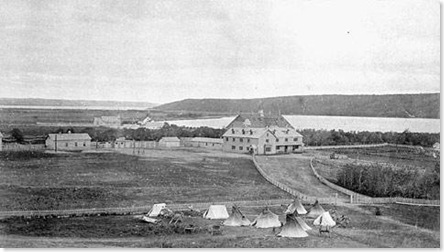 (Above: Qu'Appelle, Saskatchewan Indian Industrial School, ca. 1885. Parents of Indian children had to camp outside the gates of the residential schools in order to visit their children.)
However, Rev. Kevin Annett is unimpressed with the apology, calling it a deception. Annett call's what happened to Canada's aboriginals, among other things, a "Canadian Holocaust."
Far less clamorous is National Chief Phil Fontaine, who was himself a victim of physical and sexual abuse in the Fort Alexander Indian Residential School. Mr. Fontaine takes an optimistic view of the apology:
"Canada is now coming to terms with its dark past, a past that's been covered up and hidden from its own citizens."

"For first nations, it will restore our dignity because it will say we were unjustly wronged as a people over generations simply because of who we were."

"The apology will affirm that we are as good as anyone." (Globe&Mail)
I do appreciate Mr. Fontaine"s view and yet his words (and the context it brings to mind) strike me as infinitely sad.
I would encourage everyone to tune in to CBC or CPAC tomorrow afternoon at 3PM (EST) to hear the apology and be reminded of our collective past–be reminded, in fact, of our culpability. I pray that in some small way this process can cultivate dignity and perpetuate healing and grow mercy.