Beauty prefers and perfects subtlety. Like this first morning of June, never to hold me again. Or like the almost imperceptible red blush just now showing through the Castilleja. Or the quartz-flecked sandstone dusted by a predawn dew. Or the admiral butterfly I found, who, fearing no dictates of fashion, rested easily on tartan. Or a white, red trimmed, '63 convertible Ford Galaxy. Or the thousand moons of Vesper, known only to the sunset.
Beauty, a veiled bride, is joy's shelter, and joy, beauty's gift.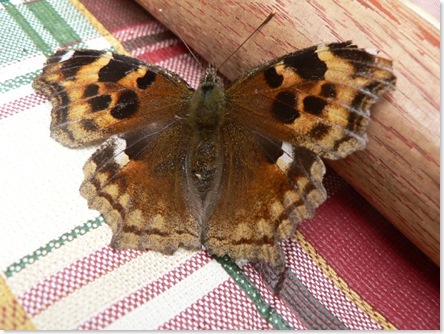 There are gifts, of course, that these eyes will never see. An almost unbearable thought, but is it an excuse to shut my sad eyes? It should be incentive. Because waiting for God's veil to be moved aside by a slow breeze is not only for sturdy hearts trained in beauty. It is also for gazing neophytes like me, who have seen only surfaces, felt lack, and have been guided only by anticipation.
The anticipation within beauty is a grace. Like the quiet poise of an African princess whose people wait enveloped in her serene tension.
Beauty always holds more than I know and it's directness always escapes my fingers. Knowing possession would be lethal, it is still the impossibility I crave. But that is my own sickness.
Beauty is elusive, that is its mercy. I wait at its feet like a small dog anticipating nothing in particular. I wait to be thrown a detail.