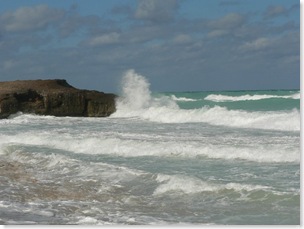 We walked on the beach, pushed along by a baby gale, and I thought the sun was surprised to be shinning. The ocean churned out frustration. Or perhaps it was simply at play, amusing itself and throwing its cappuccino waves on the few random rock formations that break up an otherwise perfect twenty-mile strip of fine white beach. Or perhaps this was ocean jazz, Caribbean sea jazz with Buena Vista riffs.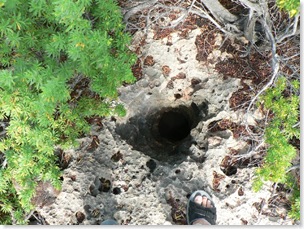 We crawled up on one of the rock outcropping's and listened to the sea roar and wail–like the Cinco Leyendas at full throttle–amplified through a basalt gramophone.
Two days before the ocean was asleep, or at least somnambulant. Only a few barely imperceptible swells gave away its life. That and the colours, because nothing can be that beautiful without being divinely alive. The still deep also gave its light back to the sky. The entire horizon exchanging a thousand shades of aqua-marine; the colours in a photo-journalist's dream.
Walking back we bent into the wind and collected orange and yellow shells and red streaked coral.