Yesterday:
We're in Montana's, with its open beams and front end of a truck through the roof and all-you-can-eat ribs on Wednesday. Waitresses, some perky, some lazy, move through the general clamour with over-sized menus and over-sized plates of food. One cheerful server makes her way to our shellacked pine-plank table with its brown paper cover that is already being coloured on and asks about drink selections.
In this moment I watch my son with his daughter and her two year old brother and I think that he has decided somewhere and early on that he wanted to be a better father than the one he had. I'm pained and overjoyed at the thought. His ease with the kids and sense of play-fun and his never using the word careful is a delight to behold. And it uncovers in me an empty spot.
I've been absent for much of his growing-up years–his elementary and adolescent and teen years. Geography played a role. But also, my own sense of helplessness and fear and avoidance of memory and pain–much of it guilt induced–played equal parts.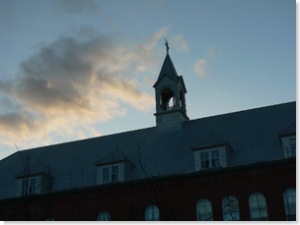 I've not been a model father. Yes, I know, there are few model fathers. But learning fatherhood from my son, who has not had an easy first couple of decades and who has been in forms of trouble culminating at one point in his being the object of an "intervention," was not, I suppose, what I'd expected. But there it is…and here in Montana's I see it. I've seen something of life's quotidian layers with its striations of strange moments and this comes as one more confusing and liberating moment.
Today:
As I browse the small book store in St. Peter's Abbey, with it's honour system purchasing policy, I consider writing my own Benedictine book; "Confessions of an Unfaithful Oblate."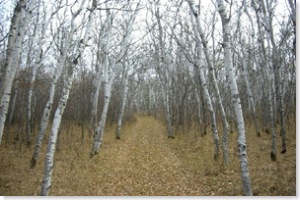 I'm afraid, even here at the Abbey, I pray and meditate best while walking behind the monastery along the easy maze of paths in the scrub poplar and hazelnut and dogwood, smoking a cigar. Today I notice life and death played out in all this under-and-overgrowth. I see what I take for a barb of sadness in a solitary Blue jay. And I see a bring-on-the-cold vigor in the Black-capped chickadees; all winter they will call out sweety-peety–a name I gave my daughter when she was old enough to walk in the woods with me. A name she still smiles at.
In this moment I realize I've come to the monastery to be confronted with my bits of infidelity. That is, my suspect self-discipline and shoddy time habits; ostensibly, my infidelity to live out a promise. Not a new thing for me. I need the paths and the walls of this place to square my life again. More, I need the fully-present presence of my mentor-monk to reassure me that I'm always salvageable and that my own odd reflecting presence adds something good back in.
Tomorrow:
Who knows what fugitive moments may be captured and held.