Credit PM Stephen Harper for officially welcoming the Dalai Lama, a first for Canadian politics. Leaders of the past Liberal government, hyper sensitive over Chinese opposition, met the Dalai Lama in the back of a Roman Catholic church. Also credit Jason Kenny (Multiculturalism) for speaking without reservation against Chinese oppression. And credit the Dalai Lama for acknowledging the Canadian overture.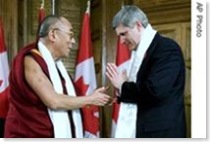 But also credit the Dalai Lama for chastising Harper over the Afghanistan war, as he had done with Bush over Iraq.
The Dalai Lama, in his characteristic low-key charismatic way, cautioned Harper that violence begets violence, and said, "I always believe non-violence is the best way to solve problems."
There's little ambiguity about the Dalai Lama's pacific stand regarding national conflict, and his non-violent message in general. So, as a Christian, I ask myself, who better represents and reflects the life and teachings of Christ, the Dalai Lama or our current (evangelical) Christian leaders?