I'm reminding myself of the day I stood in line at the High Street Starbucks, and thought, "I love this life, I love my life."
I recall that what set up the warmth were two lovers, on the patio, starring across the table at each other. The woman was plain but beautiful and her face shone as she talked to her beloved.
Just before, I had stopped at a Husky gas station. The East Indian lady behind the counter had handed back my credit card and glancing at its face said, "Thank you Stephen." I replied, "Only my mother calls me Stephen." She laughed and said, "Maybe it's because I'm feeling like an old mother these days." She went on in her lilting accent, "I have two older son's, 21 and 22 and now out of nowhere I find myself with a year old baby. I told my husband that he still had it in him." I said, "You obviously still had it in you as well." She laughed again. When I went to leave a trucker who had just finished refueling held the door open for me. I thanked him as I stepped through the doorway and he said, "Age before beauty." We both laughed.
Back at High Street I had found a table and sat down with my coffee. Just outside the large window beside the entrance I saw a man in a light coloured coat. His face was wrinkled by a long life. He had two deep creases that began under his cheek bones and formed parentheses around his mouth . He was wearing an old Tilly hat and while leaning on his cane he flirted with one of the Starbuck's barista's. She had gone out to fill the dog dish with water–a canine kindness at High Street–I couldn't hear them but he had a bright little light in his eyes and the waitress was feigning annoyance.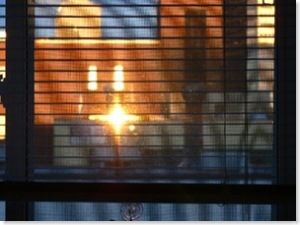 And then Jane Sibery sang, "Bound by the Beauty" and I became emotional because of all these simple gifts. That afternoon the whole world was so amazingly inviting and life so livable. I forgot the stresses and the wars and the rumours of war, and the rumours of stresses. I felt in that short moment ready to erupt with thanksgiving.
I was being graced and embraced by moments of beauty, one after another, a Divine conspiracy.
That day I questioned, "Tomorrow, am I going to forget these moments like I've forgotten so many sunsets or am I going to remember and through the remembering make it part of who I am? Can I fall in love with loving? Can I be this strong? Will I make room for this experience? I decide to at least share it with you to reinforce whatever can be reinforced. I'm remembering to remember.