This morning I found this posted on a couple of Myanmar/Burmese Blogs.
BaganNet, Myanmar's main ISP has been shut down for so-called "maintenance reasons" and most of the telecommunication services have been cut off or tapped. Information flow out of the country has been strictly monitored and even the amateur photographers are warned to be very careful as the Junta is hunting down the sources.

Numbers of blog posts have been reduced tremendously these days; nevertheless it's very encouraging to see that some freedom bloggers are still in contact with the outside world and are working their best to keep the world up-to-date with latest Myanmar news.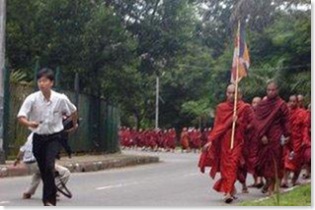 The marches begun by monks and nuns, are still going on even as the crackdown has begun. That the telecommunication links are being cut is an ominous sign.
Small things still count. You can sign a petition to support the people of Burma here. The petition will be sent to United Nations Security Council members (including the dictatorship's main backer China) and to media at the UN, while also alerting the Burmese to our support: