Poets always offer perspective.
Maybe it's the autumn leaves but this ancient Hebrew stanza laid me out again.
All flesh is like grass
and all its glory like the flower of grass.
The grass withers,
and the flower falls.
There is comfort in mortality in a way there isn't in the promise of security. Mortality, properly occupied, may be our freedom; and the pursuit of long-life, security, and semi-permanence, a manacle.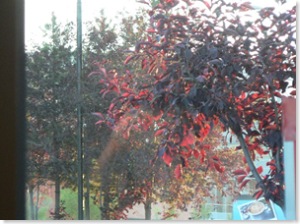 Might mortality-occupied change our lives? Could it compel us to follow a lusher, grander, path? Even at our peril, even if the promise of inner-richness was mixed with great risk, which it always is, wouldn't we take the new road revealed by mortality-occupied?
We can be held hostage by the initials we carve in hardwood. While our in-the-mean-time, which it the true stuff of our day, is squandered by stock-index ghouls and false wages and familial guilt.
In mortality-resisted, our true project, which is our awake and connected soul in relationship, is traded for a semi-conscious glutinous-soul, dying for want of a source.