My wife Deb and I just got back from performing my niece's wedding. (James and Ida Marie) I have a brave niece. We'd never done anything like this before,
I've included a few pictures. We originally went for the Jezebel / Desert Father combo, while the mother's, wheeling in Ida Marie and James' adorable daughter, went for an Ozark theme…
The following is/was my "homily." Fortunately Deb's message was bedrock stuff.
I had a marriage thought, well, it's not my thought, it's Robert Louis Stevenson's. To my mind, it's a near perfect description of the state of marriage. He said: "All marriages are mended garments."
It's true, while the whole ensemble starts out relatively pristine, only too soon, there's occasion for a bit of mending.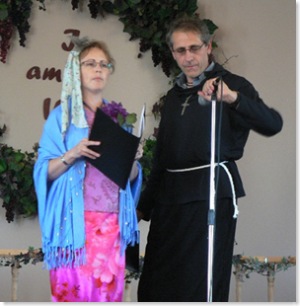 But of course, even mended garments can look exquisite.
Sometimes a marriage can look so beautiful, nothing needed, no spangles or sequins to dress it up; it's just this fine silky thing. And it feels wonderful against the skin and looks as radiant as a starburst. And you just pray someone drops by to see you in it, perhaps especially in-laws.
Other times, you look down and it's like you've got on these gray sweats with embarrassingly large holes, past bagging up and taking to Goodwill. You wouldn't dream about going out, and all you want to do is lock the doors and watch TV.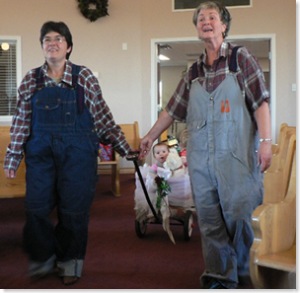 Most often however, marriages are somewhere in between…like a pair of comfortable blue jeans, or a sweet periwinkle sweater, or a forest green house coat you just love to lounge in, or maybe a standout shirt you picked up at Winners that you wash over and over again, without too much fading, and hardly any shrinkage.
Inevitably however, there will be a little wear, some fraying. Sometimes things wear through at the back, where you can't see, and you need a friend to point it out to you.
Whatever the case, you'll need some patches. You'll want to use good material. Something pre-shrunk and tested that won't come apart after the wash. (I think Jesus made this point once.)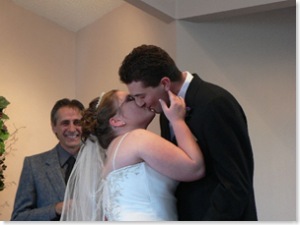 But when it comes to the mending, stitching is key. Seems to me, stretching the metaphor, love is in the stitches.
A good love-stitch brings us back in contact with each other. And there's nothing better or more important than a great double-stitch at the stress-points. Because it's precisely here, in the stress points, where we learn love. Learn to bear things, believe, and hope all things, for the sake of each other, and curiously enough, the sake of ourselves.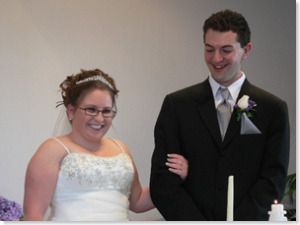 And when things are looking good, dance in that dress, sashay in that suit.
And when things are looking good, don't be tempted to pick at invisible lint. And don't let anyone else pick at invisible lint. Just recline, relax and enjoy, even accessorize for fun.
And remember to remember, just how you feel in those clothes, how beautiful a cared for marriage can look.
In the end, a good marriage garment is part memory-cloth. So you can always find your way back to the love that brought you together, and then, once again, move toward the love that rejoices in truth, is patient, is kind and enduring.