The stir-stick I drew for my coffee this morning is elegantly grained. The graining is straight reflecting an elongated cut rather than a cross-cut. From a smooth honey blonde at one end, it goes to a deep brown at the other. At its dark end the wood fibres are slightly speckled becoming almost mottled near the centre. I stir. My coffee tastes that much better.
Things of wood give me deep satisfaction. I have a small collection. Bits, sticks and chunks of wood scattered across the windowsills and side tables of my life. I turn them over in my hands.
There is life in wood. More apparent than in stone. More personified. Wood grows, responds, bends, breaks, burns, forgives, regrow's and decays.
Wood is beautiful in grainy symmetry or knotted complexity.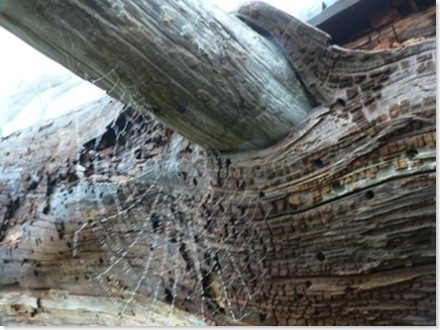 All wood has different fragrances. And wood's perfume changes with the humidity.
The subtle hazelnut smell of rain on split birch takes me back to our first acreage. The smell of fresh sawn fir transports me to a green-chain in a sawmill in Port Alberni. And the sweet sticky smell of decaying poplar and cottonwood puts me on trails along Saskatchewan's Whitesand river.
In wine, if you've the nose, you smell the state of the woody vine.
Having stirred my morning coffee with balsam I imagine I taste its lightness and I feel as much. An arbour mystery. A mercy of wood.