Yesterday we walked across the High Level bridge. At the south end we saw this bit of graffiti on a warning reflector.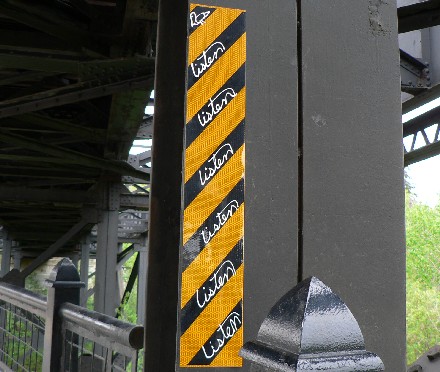 And we did…listen. And just beyond the bridge as we entered the lane bordered by thick spring green caraganas, the traffic quelled and the robins sang.
I listened through the day. Listened to the excited chatter in Starbucks on White. Listened to the quiet shuffle and rustle of feet and pages in the used book store across the street.
And on the way home I listened to the creaks and groans of Edmonton's old trolley car. I listened to clack of iron wheels on the steel rail joints.
And I listened to the little girl dressed in a Captain Hook costume, unable to contain information as to why. She was off to a birthday party with costumes.
I listened to the streetcar's stooped ticket master who was full of history and loved the old trolley–this being the opening weekend for another season of crossings–who was telling us all about the car and the bridge as we crossed back over. But who stoped and took time to listen to the little girl's story, twice.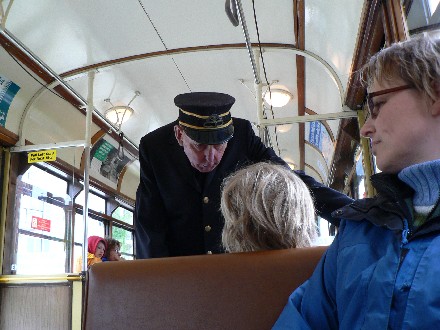 And this morning as I walk for coffee, the grey of yesterday's day-long cloud cover lifted and I'm rewarded by more graffiti. The graffiti of reflected light.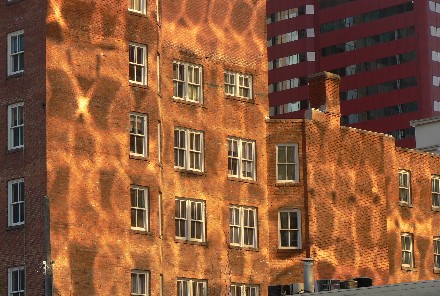 Light poetry.
Technorati Tags: Listening, Beauty, Graffiti, Light, Poetry, Edmonton Trolley