Last night was one of those times that made me proud to work for Edmonton's Hope Mission. We held our Annual Spring Banquet, a fundraiser of sorts–the preparation for which has been shredding my days, exhibited by my lack of posting. Anyway, all the convention and propriety of your average Banquet was present. All the good-natured banter of a well run better-than-average banquet was also present. But what brought it all to life was the subsequent graduation ceremony.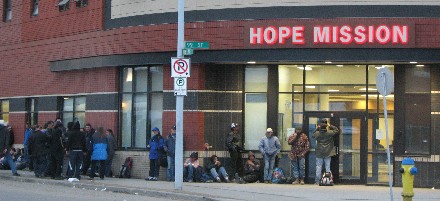 A Hope Mission graduation is, as you might expect, of a different order. Of course there were the presentations, the certificates, the pins, and a kind of procession. However, the graduates themselves were a curious mix of ages and backgrounds–from desperate to privileged–and their achievements were of a different sort. There were six month grads, one year, and two year grads. The time they had been clean…clean of crack, crystal, alcohol, gambling…
Some of the guys ventured to talk about their recovery process. The phrase, "grace of God," was a sincere refrain. All attributed their success so far to a mixture of faith, earnest desire, a stable place, a structure, and most of all, connections with Chaplains, or councilors, or intake workers.
One moving moment was when one of our Chaplains read a letter he had received from a son of one of the one-year grads. The letter spoke of dark times, estranged times, but now, of hopeful times. The son praised his father for making it this far–for crawling "out of a hole so big." The father sat on the stage in buoyant silence. The letter ended, "I love you dad." The audience stood and applauded.
But for me the highlight was Andrew. Andrew, six-foot-four, 40 or 50–hard to tell, snappy black suit, head shaved clean as a whip, comfortable in his kit, comfortable behind a mike and with a perpetual smile. He talked about how he never really had a problem with booze, never got into it, 'cause it interfered with his drug habit. He talked about a long stretch of spending thousands a week, then, finally becoming the guy who hung around food courts looking for scraps. By then, as Andrew put it, he was a "picturesque 145 pounds." Slumping about the downtown malls, lurching about the streets, months away from a bath and even farther from clean clothes. He was the guy you avoided.
Mercy still operates. Andrew made it through our six-month "Break Out" addictions program. That was over four years ago. And for the past two years he's been working at our men's shelter as an intake worker. That, and running five or more AA or NA meetings a week. Grace flows in.
Technorati Tags: Hope Mission, Addiction Programs, Graduation, AA, NA, Grace, Homelessness, Spirituality