How do you grieve over Virginia Tech? It's impossible to know. I only know about the lead weight that sat on my chest while I watched the confusion of details coming over the air waves last night. Know only the desire to shield those I love from seeing and feeling the same things. I watched for more than an hour. Enough.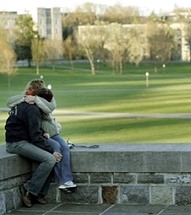 For those of us outside the circle of parents, aunts and uncles, girlfriends and boyfriends, outside the circle of fellow students, outside the Virginia Tech community, it is proper to be struck dumb and to feel profound sadness.
It is also proper to struggle with making sense of the thing–as long as we end up short of doing so. And viewing the act as utterly senseless is a reasonable way of making sense of it. That's as good as we can do, for now.
As one media personality put it, "There are evil people who do evil things. There's nothing more to it than that." For now, this may be as good a response as any. Better than–as is already happening–the left blaming it on the National Rifle Association and the gun culture, and the right blaming it on the fostering of a libertine culture.
In time, there will be, must be, time enough to strive to give names to the thing. Because, while it may be true that there are evil people who do evil things, it's not true there is nothing more to it than that.
But, for now, while we wrestle for reasons, before we offer answers, it is right for us to place our hearts, our prayers, our thoughts, upon the lives lost and upon the lives of their families and friends.
Technorati Tags: Virginia Tech, Massacre, Violence