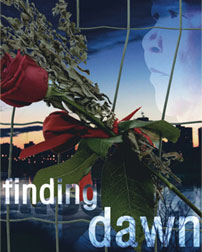 Here's an event close to my heart.
My sister-in-law's sister is Dawn. Her DNA was found at the Pickton farm.
Deb and I had a chance to preview this documentary (Finding Dawn) last Christmas when we visited with Rose, Dawn's sister, and we came away awe struck and emotional.
I know we have a personal interest, but all the stories in this documentary, while incomprehensibly tragic, are full of hope and strength.
If you have the opportunity, I highly recommend this short film. Click here for a link to a preview.

Here's the official Announcement:
THE NATIONAL FILM BOARD OF CANADA presents the Amnesty International Film Festival Gold Audience award-winning documentary Finding Dawn

Thursday, March 8 at 7 PM
Stanley A. Milner Theatre
7 Sir Winston Churchill Square, Edmonton
Doors open at 6:30 PM. Free admission. Wheelchair accessible.

This screening will be followed by a conversation with Janice Acoose, Dawn Hodgins and Marggo Pariseau. Acoose, who is featured in Finding Dawn, teaches at the Saskatchewan Indian Federated College. Hodgins is a street survivor and Project Co-ordinator for the Prostitution Awareness & Action Foundation of Edmonton (PAAFE). Pariseau is an Aboriginal consultant for the Institute for the Advancement of Aboriginal Women.
Dawn Crey. Ramona Wilson. Daleen Kay Bosse. These are just three of the estimated 500 Aboriginal women who have gone missing or been murdered in Canada over the past thirty years.
Directed by acclaimed Métis filmmaker Christine Welsh, Finding Dawn is a compelling documentary that puts a human face to this national tragedy beginning in Vancouver, travelling along the Highway of Tears in northern BC and onward to Saskatoon.
Along the road to honour those who have passed, we uncover reason for hope. It lives in Native rights activists Professor Janice Acoose and Fay Blaney. It drives events such as the annual Women's Memorial March in Vancouver and inspires communities all along the length of Highway 16 to come together to demand change.
For more information about Finding Dawn screenings and other NFB events in celebration of International Women's Day 2007, visit www.nfb.ca/iwd.
What the media is saying about Finding Dawn:

"Therein lies the theme that runs through all of Welsh's films: we have the power to change our lives. Even Finding Dawn is not only about the violence facing aboriginal women, but also about those who have escaped it, who return to their own communities as agents of change, who look to the teachings of their elders to renew their lost heritage."Joanne Bealy, Cahoots magazine, Winter, 2006

"Finding Dawn is more about the living than the dead and how native women are organizing to combat violence against native women. Going way beyond media stereotypes of native women as victims, it presents the real stories of native women who are actively engaged in making changes on and off the reserve."Kevin Griffin, Vancouver Sun, Nov 2 -8, 2006