"Have a wonderful day sweetheart." This was shouted to me by a homeless woman sitting on the steps of St. Joe's as I exited from my ash daubing.
And that was the blessing.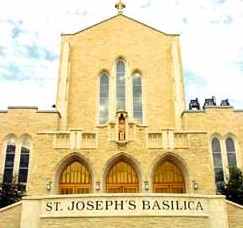 Earlier, inside, just before the entrance hymn, a lady came and sat beside me who had just come from snorkeling in perfume. In a moment the lady on the other side of me took to breathing through her collar.
Later, as the priest read prayers, before the holy water was added to the ash, the perfume lady's cell phone went off. The ring tone was a jazzy little number that she liked well enough to allow to go on ringing until enough heads turned our way, and I was forced to again look her way in my defence. This was finally signal enough for her to bend and fish in the purse at her feet and turn the thing off.
After I was reminded about my constitution of dust, and after the ashen cross was placed on my head, I walked to the back of the basilica instead of returning to my seat. The woman's perfume was at the base of my throat and on my tongue and I had developed a minor headache. I decided she was encased in enough aromatic preservative as to not worry about returning to dust any time soon.
I left early, I came through the great oak doors and stepped into fresh air and onto the broad concrete stair where the homeless woman was sitting. Fooling me, she simply smiled and said, "Hi!" I said hi back. She said, "Have a good day." I said, with more feeling, "You too," and needing to walk, moved off. She called out, "No, I mean have wonderful day sweetheart."
I loved her for this, and said a prayer for the perfume lady.
Technorati Tags: Ash Wednesday, Homeless Lady, Christianity, Peace