I learned of this 5000 year old embrace on Idle Ramblings (an eclectic archeological blog) a couple of days ago; and yesterday it appeared on the front page of our Edmonton Journal. In fact it has made news around the world.
There's a reason. It's like anthropologist Luca Bondioli said, the find has "more of an emotional than a scientific value." And when it comes to human emotion we are all involved.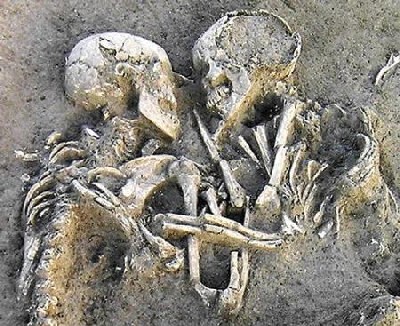 Buried 5,000 to 6,000 years ago, during the late Neolithic period, the prehistoric pair are believed to have been a man and a woman and are thought to have died young, because their teeth were found intact, said Elena Menotti, the archeologist who led the dig. "As far as we know, it's unique," Menotti said in an interview. "Double burials from the Neolithic are unheard of, and these are even hugging.

"It was a very emotional discovery," she said. "From thousands of years ago we feel the strength of this love. Yes, we must call it love."
As the poets tell us, "Love is all you need."
Technorati Tags: Elena Menotti, Luca Bondioli, Neolithic couple embrace, Love, Beauty