I had something like a religious experience on the plane ride to LA. (I'm here for a week long conference) Drifting above the cloud cover, I dialed up a movie on one of those touch screens on the headrest of the seat in front of me. The category I chose was "avant-garde" and among the choices was, Leonard Cohen: I'm Your Man.
Banking for approach to LAX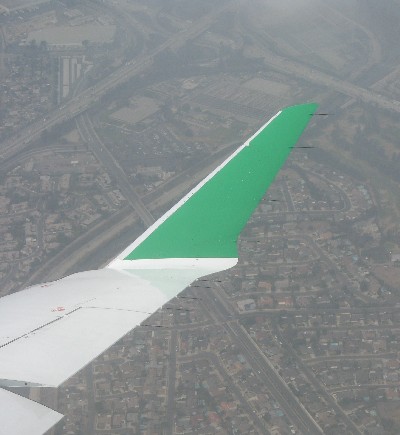 The film, about Cohen's life and career, is based on a January, 2005 tribute show at the Sydney Opera House titled "Came So Far For Beauty". Some of the performers included Nick Cave, The Handsome Family, Rufus Wainwright, Martha Wainwright, Kate and Anna McGarrigle, and Cohen's former back-up singers. The end of the movie includes a performance of "Tower of Song" by Leonard Cohen and U2. In between performances Cohen comments on pieces of his life, and people like Bono make observations about his poetry and music.
I watched the whole thing transfixed, holding my earphones close to my head so as not to miss a note. For me, the highlight…the religious experience, was Cohen's "If it be Your Will," sung by Antony. Like the voice of a charged cherub singing a deep and brooding Psalm: (And in the middle of the song Cohen ruminates on emanations of beauty.)
If it be your will ' If there is a choice ' Let the rivers fill ' Let the hills rejoice ' Let your mercy spill ' On all these burning hearts in hell

If it be your will ' To make us well ' And draw us near ' And bind us tight ' All your children here ' In their rags of light

In our rags of light ' All dressed to kill ' And end this night ' If it be your will ' If it be your will.
Technorati Tags: Leonard Cohen, I'm Your Man