When John heard in prison what the Messiah was doing, he sent word by his disciples and said to him, "Are you the one who is to come, or are we to wait for another?" Jesus answered them, "Go and tell John what you hear and see: the blind receive their sight, the lame walk, the lepers are cleansed, the deaf hear, the dead are raised, and the poor have good news brought to them. And blessed is anyone who takes no offence at me." (Matthew 11)
Jesus had been sending out healers not organizers, messengers not managers. And John had heard about it. So John, having been imprisoned by Herod because of Herod's jealousy, sent a runner to question Jesus. The question he wanted answered was wether or not Jesus was the anticipated one–the One that he had initially assumed was the deliverer, the messiah.
You'll recall that not long before there was no question in John's mind as to Jesus' messiahship. John had baptized Jesus, had said that he was unworthy to tie the sandals of Jesus.
But now, languishing in prison, failing to see tangible progress of the "Kingdom" he envisioned, John was having second thoughts about Jesus' methods. But Jesus sees behind John's question, and responds with his list of active compassion and gently adds, "blessed is anyone who takes no offence at me." And that, to me, is the story here.
We count ourselves among the blessed offenceless ones quick enough. We don't give it a second thought that we might take offence at Jesus. We think there's no possibility of envy here. That there's no possibility of rivalry. Jesus, we suppose, presents no acquisitive temptation for us.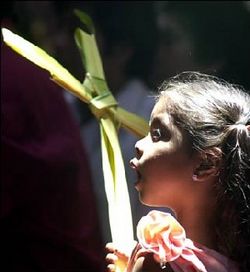 But that is our blindness. Our blindness to what the incarnation is about, and our blindness of how we carry on the affairs of life. The deeper wisdom here is what Christ saw going on in John, and so in us all. That perennial slipping into offence-taking.
It is our way. We take offence. It's where we go to secure our plans, our methods, our beliefs our egos.
I take offence. I take offence at menial things. Worse, I even take offence at the gifts and the goodness of other people.
Every time I grasp at securing something like my reputation, securing a place in a group through scapegoating another person or group, I take offence at Jesus. Every time I disparage charity and talent and good work because it happens to come out of a quarter I'm not in agreement with, I take offence at Jesus. And I am rendered un-blessed.
Being un-blessed is not something pronounced upon me. It's the sad and natural outcome of separating myself from others through resentment. My only possibility of happiness, that is, of blessedness, is modeling the one in whom there was not one offence-taking cell.
It's been my experience that when I get down to slowly–always sporadically–adopting Jesus as my model, I find myself taking less and less offence…at whatever or whoever. And here, in the un-resentment, is where seeing and hearing and healing and good news happen. Here in the beyond-offence-taking is where I find myself genuinely delighting with those who delight. And if the gospel hope is real, isn't this where humanity is heading?
Technorati Tags: John the Baptist, Resentment, Envy, Rivalry, Christianity, Peace