I watched President Bush's address two nights ago. Heard the "plan," listened to the justifications. Saw how Americans–and by virtue of being joined at the hip, we Canadians–were asked to trust in militaristic wisdom. Wisdom being, to send over another 21,000 troops. The force of which will contain the insurgents long enough for Maliki and the Iraqi government to spread democracy across the land.
And then there was the President's gaping logic of…we can't and won't leave Iraq without a victory…but we're going to leave if you guys can't get your act together.
And all of this was wrapped up neatly in a not too oblique prayer that the "Author of liberty" would bring about the desires of the American people. That is, the desires of the Bush administration because obviously the Author is on America's side.
Thing is, I could understand, I still wouldn't like it, but I could understand if President Bush and his supporter in the stuff of war, Prime Minister Harper…if their own life-views were secular, agnostic, atheistic, even outwardly Imperialistic, Machiavellian, and so on. But no, for perhaps the first time in history we have, at the same time, two leaders that are Evangelical Christians. And they publish and proclaim the thing. They both pray in the name of the Prince of peace. And they both support the violence of an unjust war (whether or not there is any such thing as a just war).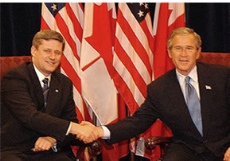 So I don't see how it would be asking too much for a kind of admission that in their understanding (Evangelical) Christianity is good to a point. Good within the confines of Sunday AM, and family and private life. But that when it comes to the big picture, Jesus didn't address this, left it up to, well, God ordained leaders of course. Because, in private life, the "Author of liberty" proclaims that liberty never comes from violence, but regarding nationhood, violence and it's escalation is obviously necessary to procure liberty. And because in the personal realm, the "Author of liberty" is on the side of victims, but publicly, politically, nationally, one must know that "He," God, is on the side of the militaristically superior.
As an evangelical Christian Bush may even see himself as an instrument for ushering in the end of days. Just may see himself as catalyst to Revelations' apocalypse, where true Christians escape to paradise.
Now I'm being alarmist. Simplistic perhaps. So while I'm at it…there couldn't possibly be any Iranian design in this escalation. And even if there was I'm one of those who needs protection through the "noble lie." I cannot possibly understand or "handle" the real truth. Better to leave statecraft to the illuminati…like Bush and Cheney (and Harper). After all the "noble lie" worked well enough keeping us plebes unruffled leading up to the invasion of Iraq.
Okay, here's the sting. We are trapped, caught like skin in a zipper, and it's going to hurt like hell to pull it back, and it's going to bleed, but if we don't things will fester and degrade and destroy us. Time to get out the sandwich boards.
Technorati Tags: Author of Liberty, George Bush, January 10th 2007 Presidential Address, Iran, Stephen Harper, Evangelical Christianity, Iraq, Violence