"Wouldn't let a knight out on a dog like this." Funny how that old chestnut doesn't work in print.
AM, Jasper and 101 Street Edmonton, Alberta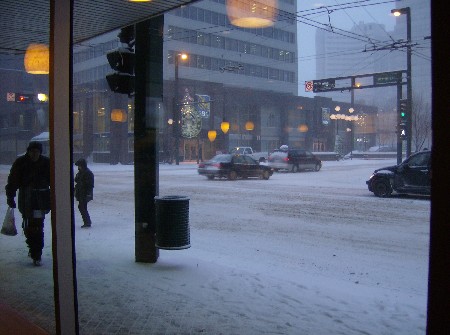 Listened to wind whistle past our leaky bedroom window last night. Reports of snow accumulation had tempered over the past few days. Two days ago during the "Perfect Storm" warnings I thought myself clever for living on the third floor.
I've trudged to the Jasper and 101 St. Starbucks today. A little disoriented as a result. No regular table you see. But I considered the blizzard and since I need to be down at the Hope Mission Centre for a meeting this morning I got geographically sensible.
I didn't see any "pickers" or panhandlers this morning, just a few toqued business men. And one bareheaded lady, skirt and high heels, tripping along 4th Street. I'm thinking she parked a-place-too-far from car to "coiffe-ateria." (forgive me) Wind whipped her and her short blond hair…but at least if she makes it indoors her hair will not have been horribly compressed by a wool cap. That would be ghastly. Frost burns are much prettier.
CBC did an obligatory cold weather/blizzard story the other night. One guy said in an interview that if it wasn't for Hope Mission he'd be dead. Janelle, Hope Mission's spokesperson, said to the camera that the blizzard will bring a few people up from the river valley. I was sunk into a warm couch listening to this, tempted to swear that Edmonton has the hardiest street people, not thinking about the chain of grim circumstance that might keep someone "living" in the river valley in weather like this. I have no concept. My brush with homelessness was a luxury.
A guy selling Voice, (street vending for street people), has just now taken his position on the corner of Jasper and 101 St. in front of the old Commerce bank. Can barely make him out through the still dim dawn and the sideways snow.
Then there are the bicycle couriers, one just walked in covered in snow, tugging at a face mask, brushing himself off. These are Vikings, the Norsemen of today. I had ambitions to be one once…bicycle courier that is. Fortunately I lived on an acreage at the time.
Technorati Tags: Blizzards, Homelessness, Bicycle couriers