The new year came and went. No marker, no line, no countdown, no climactic catapult into the new year.
Decided to see my year as circular. No line running out, no time ending and starting.
No new resolve except the daily one:
To indwell, undergo and be drawn slowly, steadily, into a Love that is nothing like my own way of loving.
To see well. To ask those around me to consistently remove the reoccurring beam-like-floaters in my eyes.
To be present. To become unhurried inside. Grow a second naivety.
To walk mindfully…open to beauty and songbirds and poetry scribbled on cinder block.
To learn to receive and accept; find myself increasingly comfortable in my own body.
To worship at the right alter that is no alter or temple or church. To be wary of glittering surfaces, quick enthusiasms, excluding remarks, and stunted desires.
To be a minor gift. Cultivating a generosity of spirit. Always giving credit, showing all references.
To daily shun my own security at someone else's expense. To desire and grow mercy. To want all this for you.
Halifax "street fiddler"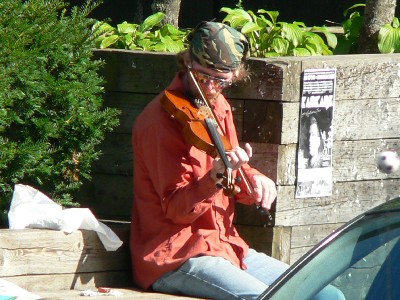 Technorati Tags: New Year, Peace, Spirituality