An old prayer for a new year:
By the tender mercy of our God, the dawn from on high will break upon us, to give light to those who sit in darkness and in the shadow of death, to guide our feet into the way of peace. (Zeckariah)
There are saints that live out and enjoy bone deep peace. They live around us undetected, and on some level hold our world together.
They love peace. They have loved peace so much as to be guided into peace's domain.
Ice climber in Malign canyon (January 2003)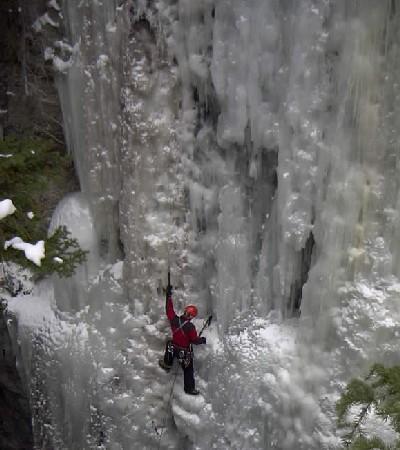 I love peace too, but I fear I mostly love it on my own terms…when my little world is right…which of course isn't true peace. So perhaps I don't really love it. I mean really love it.
Because sweet peace, deep peace, is something that lives beyond acquisition, competition, reputation and the fear of death in all its subtle forms.
Well, here's lifting a glass to at least taking another step in the "way of peace."
Technorati Tags: Peace