The accumulation of our joys and sorrows are soft-sculpted into our faces. The nuances of every experience are etched in. Our face is an unfinished painting.
Our face is naked. We meet the world with it. It is what is most vulnerable about us. Often we mask it, hide it, make it up.
But in an instant these things can fall away. In a small awkwardness, in the presence of a child, through a note from a friend, through the kindness of stranger, or the moment the sky turns vermilion, our face will give us away.
A face I love from Edmonton's inner-city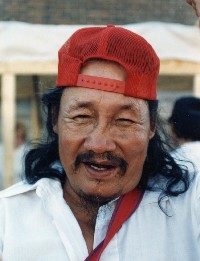 ---
I wonder…and think…
…perhaps the face has something to do with the popularity of poker. We humans have a great interest in face reading. More than an interest really, maybe an instinct for it.
---
…about the woman in France that recently received the world's first face transplant. How will this woman's identity be altered?
---
…about Jacob saying to the forgiving Esau, "…truly, to see your face is like seeing the face of God."
---
…about David's prayer:
Restore us, O God of hosts; let your face shine, that we may be saved.
---
Technorati Tags:
Naked face
,
Face transplant
,
Spirituality