Allow me a bit of a divergent, and, well, self-referential post…you're kind.
---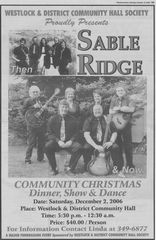 December 3rd Headline: Little known early-eighties band makes return engagement and achieves super-stardom!
Alternate headline: Proof people age but some never grow-up!
Actually there are people in this band who are truly talented musicians…and have kept their edge. (Bob McLaughlin, Ken Kowalyshyn, Rose Marie Bain, Julia Walker, Mike Simpson)
Me? (That'd be the guy on the far right with the nervously-surprised-but-delighted-I'm-here-holding-a-guitar grin.) Well…it's so hard to blow the rust off of 15-20 years of very little playing.
But it was so much fun getting together and playing and practicing over the past few short months. So even if I completely suck tomorrow, I'll consider this a delightful gift.
(And bless you Bob M. for the crazy and necessary idea. Carry on my friend. You are always in our prayers. And thank you all!)
One more possible headline: Groupies enthralled by jazzy ties, overcome by Beatles Medley.
Technorati Tags: Sable Ridge